Five ingredient creme brulee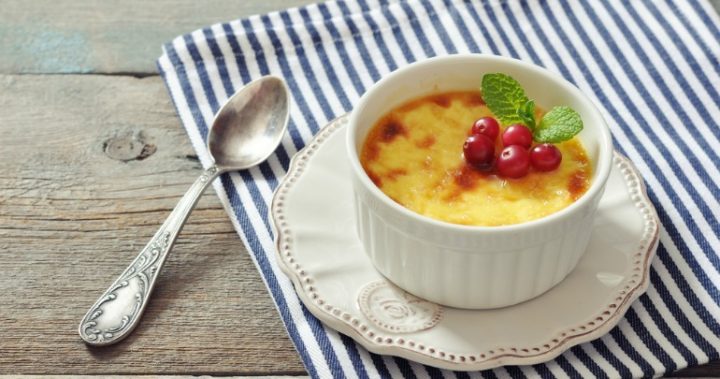 Creme brulee is the perfect dessert to bring out when looking to impress your guests with your baking skills. Even though it's considered a fancy dish reserved for special occasions, this recipe only contains 5 ingredients which makes it a cheap and easy homemade option.
It can be paired with a side of vanilla ice cream or topped with fruit to add bursts of different flavours. This delicious dish is definitely worth the wait!
Ingredients
2 cups pure cream

1 teaspoon vanilla bean paste

5 egg yolks

1/3 cup caster sugar

2 tablespoons brown sugar
Method
Preheat oven to 150C or 130C fan-forced. Fold a tea-towel and place in base of a roasting pan then put four 3/4 cup-capacity ovenproof dishes on top of tea-towel.
In a saucepan on medium heat, heat cream and vanilla. Stir for 8-10 minutes until just simmering not boiling.
In a heatproof bowl, whisk egg yolks with caster sugar. Slowly add cream mixture and whisk until combined. Strain the mixture into a heatproof jug and pour into four dishes. Pour boiling water into pan until half covering the dishes.
Bake until almost set and mixture is wobbling for about 35 mins. Remove dishes from pan and set aside for 30 mins. Refrigerate with a cover overnight.

Preheat grill to high. Wet a tea-towel and place in pan then put dishes on the top. Sprinkle the tops with brown sugar. Surround dishes with ice cubes to prevent overcooking the custard. Grill until the sugar starts to melt for about 5 mins. Set aside for 5 mins before serving.