Delicious oat and plum muffins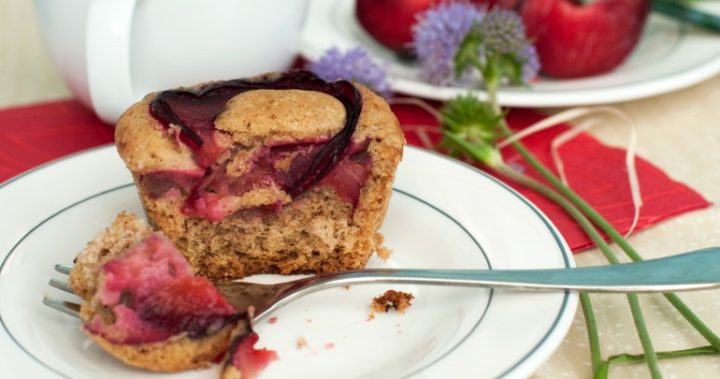 Nothing compares to a perfectly ripe juicy plum. Light and delicious, these oat and plum home-made muffins make the perfect afternoon treat or mid-morning snack.
Bursting with flavour, this incredible recipe includes rolled oats, cinnamon, plums and creamy vanilla yogurt.
If you want your muffins to last, store in an airtight container in the fridge. Serve with a side of fruit salad dolloped with yogurt and dig in!
Ingredients
1 1/2 cups self-raising flour
1/2 cup rolled oats
1/2 cup raw sugar or demerara sugar
1 tsp ground cinnamon
2 large plums, stoned, finely chopped
125g butter, melted
2 eggs, lightly whisked
1/2 cup vanilla yogurt
1/2 cup milk
2 plums, extra, stoned, thinly sliced
Method
Preheat oven to 180°C. Line 12-hole muffin pan with paper cases.
Combine flour, oats, sugar and cinnamon in large bowl.
Add chopped plum and gently toss to combine.
Whisk butter, egg, yogurt and milk in small bowl.
Add to flour mixture and stir to combine.
Divide evenly among muffin pans.
Top with sliced plum.
Bake for 25 to 30 minutes.