Delicious cranberry and oat slice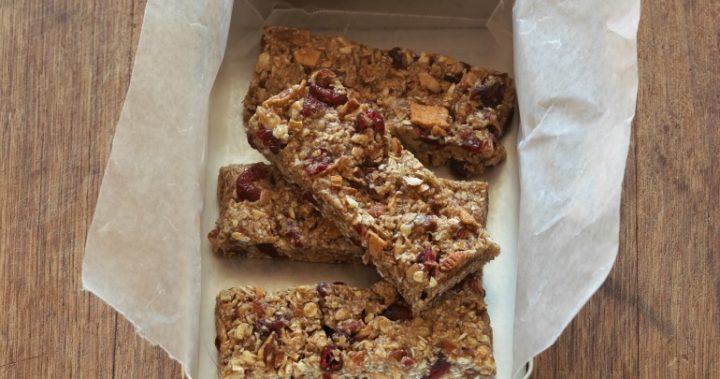 This is a delicious and easy recipe the whole family will love and it makes a great healthier alternative to those choccy biscuits come afternoon-tea time.
Filled with plenty of flavour, this incredible recipe includes a delicious oat and cranberry mixture, topped with flaked almonds, pumpkin seeds and honey – it's so tasty! The best part is you can substitute any dried fruit to your liking and throw in whatever nuts take your fancy.
The whole and natural ingredients make it a great energy-packed slice to have on hand at home. Pour a cuppa and enjoy!
Ingredients
1 1/4 cups wholemeal plain flour
2 tsp finely grated orange rind
1/2 cup brown sugar
1 1/2 cups rolled oats
1/4 cup dried cranberries
1/4 cup sultanas
125g butter, chopped
2 tbsp honey
1/2 tsp bicarbonate of soda
2 tbsp boiling water
2 tbsp flaked almonds
1 tbsp pepitas (pumpkin seeds)
1 tbsp honey, extra
Method
Preheat oven to 180°C. Grease a slice pan (18cm x 28cm) and line base with baking paper.
Combine flour, orange rind, sugar, oats, cranberries and sultanas in large bowl.
Place butter and honey in small saucepan over medium heat.
Cook, stirring, until butter melts.
Add bicarbonate of soda and boiling water and stir until mixture bubbles. Remove from heat and set aside.
Make well in centre of flour mixture. Pour in butter mixture and stir until combined.
Press mixture into prepared pan. Sprinkle with almonds, pepitas and drizzle with extra honey.
Bake for 25 minutes or until golden.