Delicious and easy lemon bars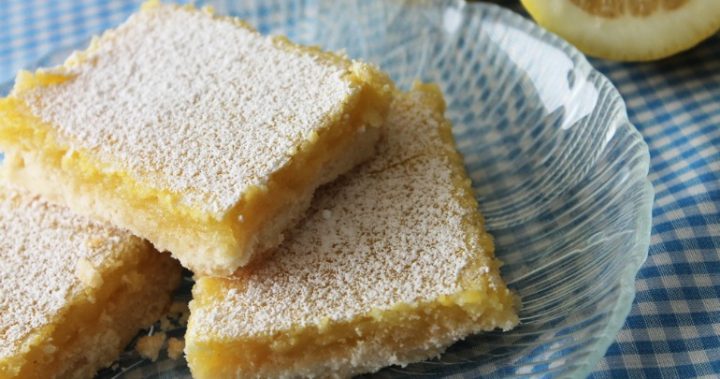 With the end of summer fast approaching it's the perfect time to take advantage of those classic summer recipes that practically fill the mouth with sunshine! This classic recipe is perfect for afternoon tea at home or a picnic out with the family. Be sure to use juicy, ripe lemons and sprinkle over a little Confectioners' sugar for flare. Any leftovers can be stored for up to a week (if you can resist them for that long!) in an air-tight container in the refrigerator. Take them out of the fridge about 15 minutes before serving to allow them to come back to room temperature.
Ingredients
For the crust:
1/2 pound unsalted butter, at room temperature
1/2 cup granulated sugar
2 cups flour
1/8 teaspoon kosher salt
For the filling:
6 extra-large eggs at room temperature
3 cups granulated sugar
2 tablespoons grated lemon zest (4 to 6 lemons)
1 cup freshly squeezed lemon juice
1 cup flour
Confectioners' sugar, for dusting
Method
1.Preheat the oven to 350F. For the crust, cream the butter and sugar until light in the bowl of an electric mixer fitted with the paddle attachment. Combine the flour and salt and, with the mixer on low, add to the butter until just mixed. Put the dough on a well-floured board and gather into a ball. Flatten the dough with floured hands and press it into a 9 by 13 by 2-inch baking sheet, building up a 1/2-inch edge on all sides. Chill.
2. Bake crust for 15 to 20 minutes, until very lightly browned. Let cool on a wire rack. Leave the oven on.
3. For the filling, whisk together the eggs, sugar, lemon zest, lemon juice, and flour. Pour over the crust and bake for 30 to 35 minutes, until the filling is set. Let cool to room temperature.
4. Cut into triangles and dust with confectioners' sugar.