Classic and delicious caramel apple turnovers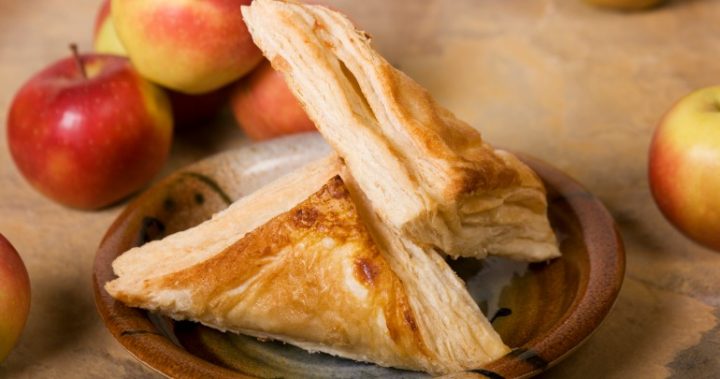 When it comes to dessert, there's nothing like the combination of pastry and apples.
These classic and delicious caramel apple turnovers make the perfect desserts in ideal portion sizes, while the scrumptious caramel sauce adds that extra bit of sweetness that goes so well with the apple flavours.
A dessert that's guaranteed to impress your family and friends, and yet is easy to make. Serve it up with some fresh cream or vanilla ice cream for an extra indulgent sweet after dinner.
Ingredients
2 small peeled & finely diced apples, any variety (but granny smith is lovely for a sweet, yet tart flavour)
1 teaspoon cornflour
2 teaspoons vanilla extract
1 teaspoon ground cinnamon
1/2 cup granulated sugar
2 sheets frozen puff pastry, thawed
1 large egg, beaten
For the salted caramel sauce:
1 cup granulated sugar
6 tablespoons salted butter, room temperature and cut up into 6 pieces
1/2 cup cream
1 teaspoon salt
Method
Cook the apples, cornstarch, vanilla, cinnamon, and sugar in a medium saucepan over medium heat, stirring constantly for 5 minutes. Lower heat and simmer for 5 minutes. Remove from heat and cool for 20 minutes.
Preheat oven to 200C and line two large baking trays with baking paper.
Place thawed pastry sheets on a lightly floured surface, then cut each into 4 squares. Spoon 2-3 tablespoons of apple mixture into the middle of each square, then fold over into a triangle. Crimp the edges with a fork to seal. Cut 2-3 slits in the tops to allow steam to escape while cooking, and brush the tops with beaten egg. Bake for 20 minutes, or until golden.
To make the salted caramel sauce, heat sugar in a medium saucepan over medium heat, stirring constantly until it melts down into a thick, brown liquid, taking care not to burn it.
Once sugar is melted, add the butter (caramel will bubble rapidly when the butter is added), and whisk for 2-3 minutes. Slowly, drizzle in the cream while stirring continuously.
Allow mixture to boil for 1 minute, then remove from heat and stir in the salt. Allow to cool before using. You can store the caramel in an airtight container in the fridge for up to 2 weeks.