Amazing blackberry toffee crumble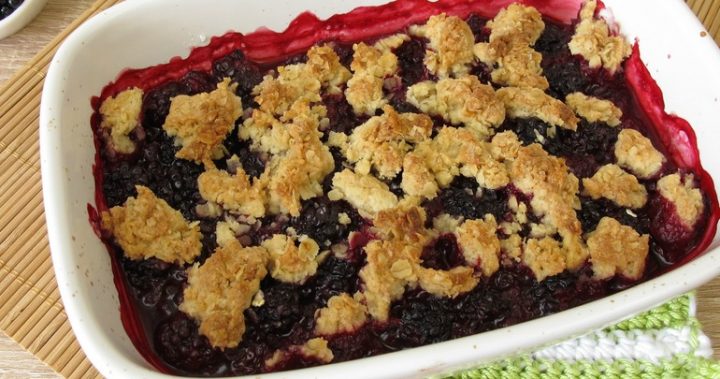 While the cold weather is still hanging around, it's a great time to take advantage of all the amazing winter desserts! This amazing blackberry toffee crumble is absolutely divine, and will have you going back for seconds.
The toffee makes it that little bit different to a regular crumble, and combined with the rich flavour of blackberries, it's the ultimate dessert. Serve it up with some double cream or a big scoop of vanilla ice cream for a delicious treat!
Ingredients
Filling
5 cups blackberries (frozen are fine)
1/3 cup sugar
1/4 cup cornflour
2 teaspoons lemon juice
1 teaspoon vanilla extract
Topping
3/4 cup plain flour
3 tablespoons brown sugar plus extra for sprinkling on top
1/2 cup cold butter
1/2 cup toffee bits
1/4 cup chopped pecans
Method
Preheat oven to 190C.
Stir together blackberries, sugar, cornflour, lemon juice and vanilla, and place in a pie or large baking dish.
To make the crumble, combine the flour and brown sugar, then rub in the cold butter until a crumble has formed. Stir in toffee bits and chopped pecans.
Sprinkle crumble topping evenly over the blackberry mixture, then bake for 30-40 minutes or until bubbling and golden on top.
Allow to cool a little before serving with cream and / or ice cream.