Sweet n' sticky slowcooked caramel glazed chicken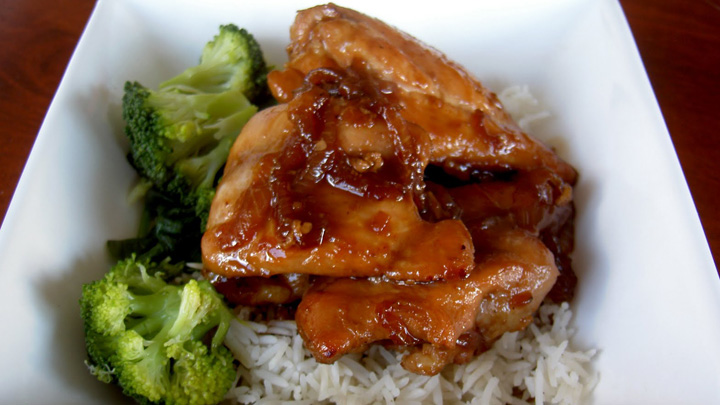 Chicken is an incredibly versatile meat that can virtually be matched with any sauce including peach, honey and for the very adventurous – caramel! Pull out your slowcooker and salivate over the aroma of sweet n' sticky meat permeate through your home…
Ingredients
boneless chicken thighs or wings (600 grams )
2 lemongrass stems, or 1 Tbsp lemongrass paste
1 tablespoon peanut oil (or canola oil for allergies)
2 teaspoons ginger, grated
2 cloves garlic, crushed
1/3 cup soy sauce
2/3 cup brown sugar
1/4 cup fish sauce
1/4 cup sherry or Chinese rice wine
Method
Start making the caramel sauce in a small saucepan by heating oil, then ginger and garlic. Cook mixture for one minute before adding soy sauce and sugar. Cook for a further three minutes, or until the sugar has dissolved. Add the fish sauce and sherry then reduce the heat to low and simmer it to a syrup.
Ad. Article continues below.
Place the chicken thighs in to the slowcooker and add the sauce and lemongrass, mixing until well coated. Cover and cook on low for 5 hours or until the chicken is cooked through consistently. Garnish with sesame seeds and Asian greens.
Please note that this recipe is not suitable for freezing. If you prefer a thicker syrup, put a little cornflour to your mixture before adding it to the chicken.
Thank you to this blog for the image.