Classic chicken schnitzel with an amazing healthy twist!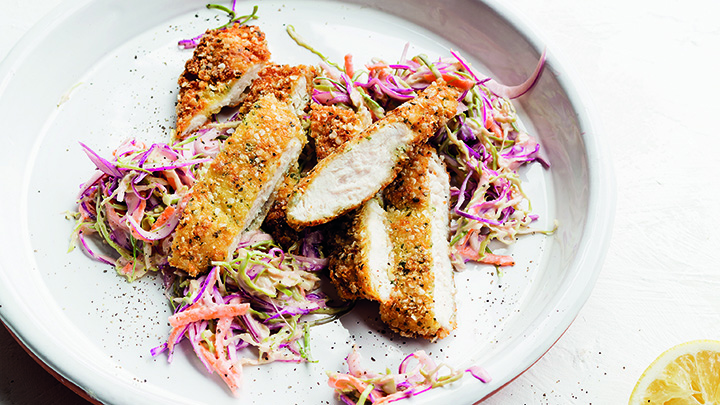 Chicken schnitzel is a favourite among many, but with the high-carb ingredient of bread crumbs, it's not quite the healthiest option on the menu. Here's one fantastic way to give this great dish a healthier edge.
Quinoa, the superfood of the moment, makes a fantastic, high-protein substitute for schnitzel crumbs. It will give your body a great dose of iron, magnesium, potassium and calcium – and with the following instructions, it's never been tastier!
SERVES 4
Ingredients: 
4 x 180g chicken breast fillets,
halved horizontally
2 cups (200g) quinoa flakes
1/2 cup (40g) grated parmesan
2 tbs each finely chopped chives
and flat-leaf parsley leaves
2 tsp finely grated lemon zest
2 eggs
1/2 cup (125ml) milk or nut milk
1/4 cup (45g) rice flour
300g Brussels sprouts, trimmed
100g red cabbage
1 carrot, coarsely grated
1 small red onion, halved, thinly sliced
1/2 cup (150g) low-fat mayonnaise
Finely grated zest and juice of 1 lemon,
plus lemon wedges, to serve
1 tbs creamed horseradish
1 tbs apple cider vinegar
Coconut oil, to shallow-fry
Ad. Article continues below.
Method:
Place the chicken in a single layer between 2 pieces plastic wrap and, using a meat mallet or rolling pin, pound until 1cm thick.
Place the quinoa flakes, parmesan, chives, parsley and lemon zest in a food processor and pulse to combine. Transfer to a large shallow bowl.
Lightly whisk the eggs and milk in a bowl and season.
Place the rice flour in a shallow bowl. Dust chicken in rice flour, shaking off any excess, then dip in the egg mixture and coat with quinoa mixture.
Chill until ready to cook.
To make the slaw, using a mandoline, thinly slice sprouts and cabbage and place in a large bowl with the carrot and onion.
Whisk the mayonnaise, lemon zest and juice, horseradish and vinegar together in a bowl and season.
Add to the cabbage mixture and toss to combine.
Heat 1cm oil in a large frypan over medium-high heat and cook the schnitzels, in batches, for 2-3 minutes each side until golden and cooked through.
Divide slaw among serving plates, thickly slice schnitzels and place over slaw. Serve with lemon wedges.
This recipe was originally published in Feel Good Food by Valli Little, and is shared here courtesy of ABC Books. Click here to learn more about this great cookbook range!