Super-easy peach and almond tart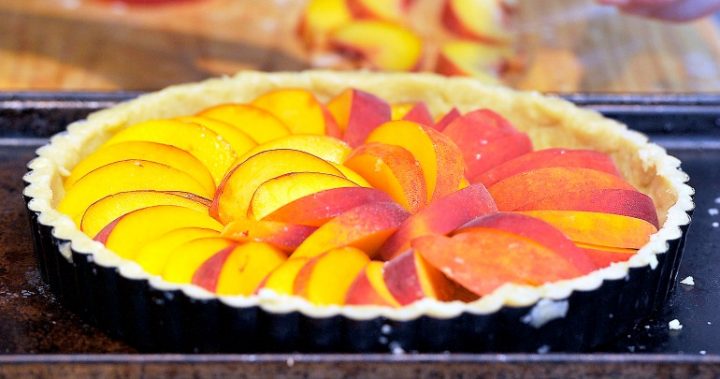 If you're after a peachy treat that's easy to make and delicious, this is the recipe for you. Succulent peaches, sweet almonds and melt-in-the-mouth pastry, equals for the perfect afternoon delight.
This country-style peach tart tastes great and sure looks like you spent a lot of time making it, despite not taking too long at all! The pastry recipe is extra special thanks to the addition of almond meal, which brings a subtle sweetness and that deliciously nutty flavour to the pastry.
If peaches aren't in season, don't fret, you can substitute for canned peaches instead. It really is the perfect summer tart and a great addition to the table at family Christmas celebrations.
Ingredients
Pastry
175g plain flour, plus extra for rolling
85g cold unsalted butter
1tbsp cater sugar
2 egg yolks
Filling
100g caster sugar
140g butter
2 eggs, beaten
140 ground almond
50g plain flour
3 peaches, sliced
apricot jam
Method
To make pastry rub together flour and butter until breadcrumbs, then mix in the sugar.
Add 1 egg yolk and 1tsp water, followed by another egg yolk and 1 tsp water until dough comes together.
Cover in cling wrap, refrigerate for 30 minutes.
Heat oven to 200°C.
Roll pastry out on lightly floured surface until big enough to line tart tin.
Cut away excess pastry.
Line with non-stick baking paper, fill with baking beans (or rice) and bake for 10 minutes.
Remove paper and baking beans.
Prick a few holes in the tart, bake for another 10-15 minutes until biscuity.
While pastry cooks, make filling.
Whisk sugar and butter together until you get a pale paste.
Beat in eggs and add almonds and flour.
Spoon into pastry case, arrange peach slices across the top and bake for 30-40 minutes until golden.
When cool, brush jam across the top.
For a sweeter kick, serve with cream!