Sun dried tomato and cheese savoury muffins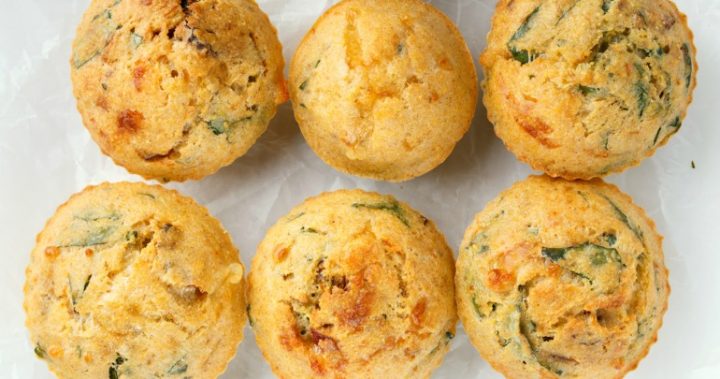 If you're looking for a tasty alternative to your morning or afternoon snack, this delicious muffin is it! You can enjoy them warm out of the oven with a nice smearing of butter, or keep them stored in an air-tight container and pull them out whenever you need something to satisfy your craving. While the ingredients call for sun dried tomatoes and herbs, you can really ad in whatever you like along the way. Try different herbs, like basil or thyme, or ad marinated capsicum or kalamata olives. If you really want to take things to the next level, sprinkle a little parmesan cheese on top before putting them in the oven for a lovely golden top!
Ingredients
1 cup plain flour
1 teaspoon baking powder
1/2 cup sun dried tomatoes, roughly chopped
1/2 teaspoon salt
1/2 teaspoon pepper
1 tablespoon mixed dried herbs
1/2 cup feta cheese
1 cup tasty cheese, grated
1 egg, lightly beaten
1/2 cup water
1/4 cup milk
1/2 cup of sun dried tomato oil (from jar)
Method
1. Preheat oven to 180C. Spray a muffin tray with canola spray and set aside. In a bowl, mix the flour, baking powder, feta, tasty cheese, mixed herbs, sun dried tomatoes and salt and pepper.
Ad. Article continues below.
2. In a jug, combine the egg, milk, water and tomato oil.
3. Pour the wet ingredients into the dry ingredients and using a spatula, carefully mix until all ingredients are just combined. Spoon into muffin tin and bake 15 minutes.
—————————————————–
If you'd like to see more recipes from Starts at 60, click here. And if you have a recipe you'd like to share with the Starts at 60 community – we'd love to share it! Submit them to us by completing the form below.
Submit your article here