Stunning chocolate filo bites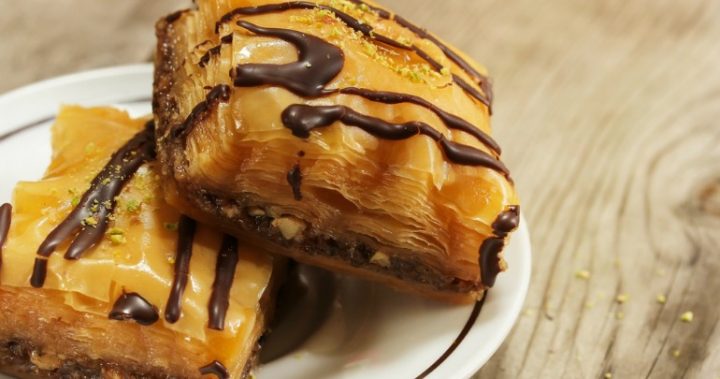 Who doesn't love chocolate and pastry? It doesn't get much better than combining the two to make a little flavour sensation treat. These are almost like a chocolate version of a Baklava, only much simpler to make.
These exquisite bite-sized chocolate pastries make it easy to serve guests and enjoy yourself. They're perfect for after dinner sweets or a treat for visitors – or even the grandkids. The perfect chocolate parcel!
Ingredients
1 cup ground hazelnuts
3 tablespoons hazelnut-flavoured (or almond-flavoured) liqueur
75g grated bittersweet chocolate
2 tablespoons confectioners' sugar
2 thawed frozen filo sheets
3 tablespoons warmed honey
Crushed pistachios and extra chocolate to drizzle (optional)
Method
1. Preheat the oven to 190C and line a baking tray with nonstick baking paper.
2. Mix hazelnuts, liqueur, chocolate and icing sugar together.
3. Cut out twenty-four 9 centimetre squares from the filo
4. Place a teaspoon of the chocolate mixture in the middle of each square, brush a little water around the edges, then top with another filo square to form the parcel.
5. Place pastries on baking sheet and bake for 10 to 12 minutes, or until golden
6. Brush with honey and cool for 5 minutes
7. Sift icing sugar over pastries, or drizzle with melted chocolate and sprinkle crushed pistachios. Serve warm or cooled.