Strawberry cream cheese shortcake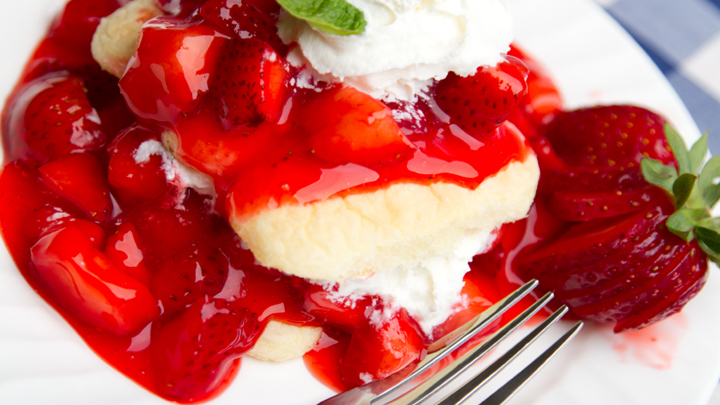 And now for something a little different but very classic indeed – a beautifully sweet shortcake.
This is a fabulous dessert for a girls' lunch or even just for the family.
Serves 6-8
Cooking time: 45 minutes
Ad. Article continues below.
Ingredients
125g butter, softened
220g (1 cup) caster sugar, plus 2 tbsp extra
2 eggs, beaten
125g cream cheese
300g (2 cups) self-raising flour, sifted
375g small strawberries, with tops cut off
Warmed custard
Crumble
50g chilled butter, cubed
50g (1/3) cup plain flour
80g (1/2) cup brown sugar
Ad. Article continues below.
Method
Preheat oven to 180 degrees. Lightly grease a 4cm deep, 20 x 30cm baking tray and line.
Beat butter and caster sugar for 2-3 minutes. Add the eggs and beat for another 2 minutes.
Add half the cream cheese and half the self-raising flour and stir to combine. Add the remaining cream cheese and SR flour and combine.
Gently fold in 200g of the strawberries. Spoon into tray.
Prepare the crumble by placing the butter, plain flour and brown sugar in a bowl.
Use your fingers to combine until the mixture is crumbly.
Sprinkle over cake mixture and bake for 40 minutes.
Put the remaining strawberries, caster sugar and 2 tbsp of water in a saucepan and bring to boil. Could until strawberries soften.
Serve the shortcake with the strawberries and warm custard.
—————————————————–
If you'd like to see more recipes from Starts at 60, click here. And if you have a recipe you'd like to share with the Starts at 60 community – we'd love to share it! Submit them to us by completing the form below.
Submit your article here