Sticky date cake with caramel sauce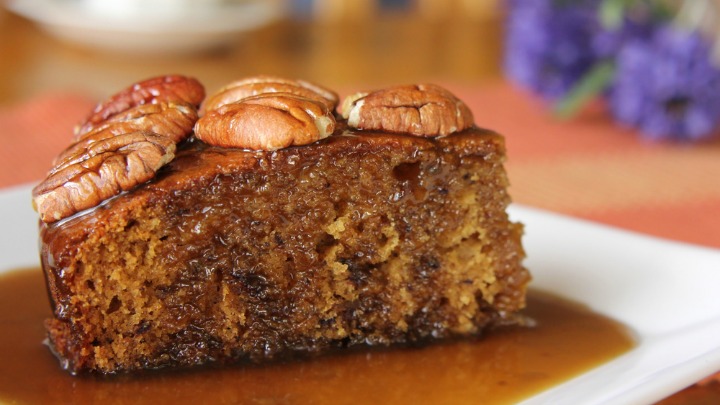 What is it about the combination of sticky date cake and caramel sauce that's just so damn good every time?! The beautiful thing about this recipe is that it's easy to whip up, with the all the ingredients for the cake being thrown into one bowl and mixed together with a wooden spoon before being poured into the cake tin. The caramel sauce is ready in a matter of minutes and once the cake is done you can pour the warm sauce over the top of each slice. It's great with a big scoop of vanilla bean ice cream or with a generous pouring of cream. Yum!
Ingredients
1½ cups pitted dates, chopped
1/3 tsp bicarb soda
80g butter
1 cup boiling water
1½ cups self-raising flour
¾ cup brown sugar
2 eggs, lightly beaten
Caramel sauce
1 cup brown sugar
100g butter
¾ cup single cream
Ad. Article continues below.
1. Preheat oven to 180C and line a 20cm square cake tin with baking paper. Place dates, bicarb soda and butter in a bowl, add the boiling water and leave for 5 minutes.
2. Sift the flour into a separate bowl and add sugar. Stir in date mixture and eggs and mix until well combined. Pour mixture into prepared cake tin and bake for 40 minutes or until cooked when tested with a skewer.
3. To make caramel sauce, place all ingredients in a small saucepan over medium heat and stir until combined. Let it simmer for 5 minutes or until thickened slightly. Serve the cake with warm caramel sauce. Serves 10 to 12.
—————————————————–
If you'd like to see more recipes from Starts at 60, click here. And if you have a recipe you'd like to share with the Starts at 60 community – we'd love to share it! Submit them to us by completing the form below.
Submit your article here