Stewed fruit and grain-free crumble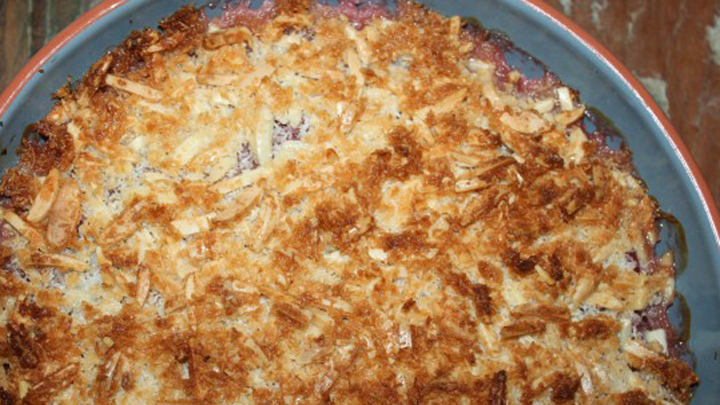 This recipe is great if you've got some fruit that's about to go bad. Plus it shows how simple it is to make a tasty and satisfying dish that is gluten, dairy, additive and dairy-free! You can also freeze the stewed fruit in smaller portions if you make extra. The crumble is not overly sweet; you can always add more sweetener of choice if you prefer.
Ingredients
Stewed fruit
1kg fruit of choice
3cm chunk of fresh ginger
1 vanilla bean – sliced in half down the middle
1/4 cup water
Honey, maple or sweetener of choice
Ad. Article continues below.
Crumble
1 cup slivered almonds
1 cup desiccated coconut
3 tablespoons coconut oil – melted
3 tablespoons honey, maple or sweetener of choice
Method
Stewed fruit
Ad. Article continues below.
Cut fruit into desired size pieces. Place the fruit with the ginger, vanilla and water into a saucepan and bring to the boil (lid on).
Once boiling, remove the lid and reduce to simmer. (Add sweetener if you think you need it).
Stir a few times and simmer until soft and liquid is reduced. The timing will depend on the fruit used (10-40 minutes).
Remove from heat and remove ginger and vanilla.
Crumble
Place all ingredients into a bowl and mix well. Place crumb on top of stewed fruit and cook at 180C oven fro 20-30 minutes.
The original recipe can be found at Cut Out The Crap.
Tell us, what type of fruit will you try in your crumble? Will you try this recipe?