Homemade spring rolls with Vietnamese dipping sauce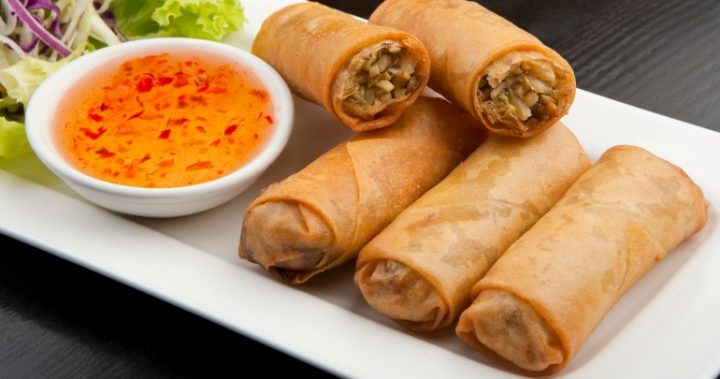 Spring rolls are the finger food that everyone loves. Ideal if you're entertaining or you're asked to bring a plate, they're a real crowd pleaser. This recipe can be adjusted to cater for different tastes or dietary requirements, and the sauce can be mild or spicy, depending on taste.
Ingredients
Spring rolls
50g vermicelli (bean thread) or glass noodles
500g chicken mince or pork mince
2 spring onions, chopped
Coriander, roughly chopped
2 tablespoons light soy sauce
2 tablespoons oyster sauce
1 tablespoon sugar
1 teaspoon chicken stock powder
1/2 teaspoon salt
Pepper, to taste
1 tablespoon flour
Spring roll sheets
Vegetable oil for frying
Sauce
1/2 cup sugar
Juice of 2 limes (or 1 lemon)
2 tablespoons vinegar
1/2 cup boiling water and 1/2 cup cold water
1/4 cup fish sauce
1 carrot, grated
Chilies (optional if you like spice)
Method
Soak noodles in cold water for 20 minutes then cut into small pieces. Drain and set aside.
In a large bowl, combine noodles, mince, onions, coriander, soy sauce, oyster sauce, sugar, stock powder, salt, and pepper.
Peel the spring roll wrappers apart and cover them with a damp tea towel to prevent drying. Mix the tablespoon of flour with the cold water to make a paste to seal the rolls.
Place the wrapper on your work surface with a corner facing you, then add 1 1/2 heaped teaspoons of the filling in the bottom corner. Roll the wrapper over the filling tightly upwards to the middle, then fold in the ends. Spread a little of the paste on the remaining corner and finish rolling. Repeat until mixture is used up.
In a large wok or frypan, heat enough oil to cover the spring rolls. Deep fry the rolls until golden brown, then place on paper towel to drain.
To make the sauce, dissolve the sugar in the boiling water, then add the remaining ingredients and stir to combine thoroughly.