Golden chicken and vegetable spring rolls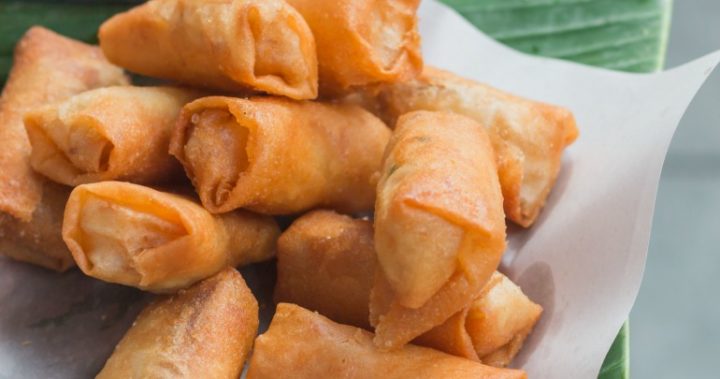 They're a firm favourite on any takeaway order and now, thanks to this simple recipe, you can make spring rolls in the comfort of your own home. These tasty treats are a twist on the standard veggie spring rolls and include chicken – but you can always keep the recipe vegetarian by simply leaving out the meat.
Once you've got a batch of these deliciously golden spring rolls, you won't be able to resist dunking them in your favourite sauce!
Ingredients
Vegetable oil, for cooking

750g chicken thigh fillets, trimmed, finely chopped

4 green onions, finely sliced

2 carrots, peeled, grated

250g cabbage, finely shredded

1/2 cup hoisin sauce

12 frozen spring roll wrappers, thawed
Method
1. Heat 2 teaspoons of oil in a wok over medium-high heat. Add the chicken and stir-fry for 3 minutes or until cooked through. Transfer to a bowl.
2. Add onions, carrots and cabbage to wok. Stir-fry for 2 minutes or until soft. Add to chicken with 1/4 cup hoisin sauce. Stir until well combined. Allow to cool completely.
3. Lay 1 spring roll wrapper on a flat surface. Place 1/3 cup of chicken mixture along 1 edge of wrapper. Fold in sides, then roll up tightly to enclose filling. Brush edges with a little water. Press to seal. Repeat with remaining wrappers and chicken mixture.
4.Preheat oven to 160ºC. Clean wok. Pour enough oil into wok to half-fill it. Heat over medium heat until hot. Cook spring rolls, 3 at a time, for 3 to 4 minutes or until light golden. Remove with a slotted spoon to a wire rack. Keep warm in oven while cooking remaining spring rolls. Serve with remaining hoisin for dipping.