Baked ricotta-stuffed mushrooms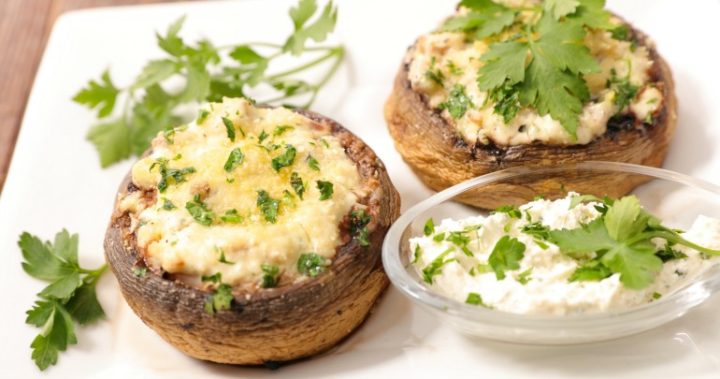 These tasty dishes are best used as the ideal appetisers for guest to enjoy at special events. They can enjoy the delicious and flavoursome mixture of ricotta, parmesan and sun-dried tomatoes stirred together with a variety of herbs.
Not only will they have everyone racing back for seconds but these treats are so quick and easy to make that you will want to cook them for every occasion. These mushrooms are exploding with flavour and will quickly become a crowd favourite!
Ingredients
4-6 large field mushrooms, stalks removed
olive oil
3 cups (600g) ricotta
60g sun-dried tomatoes, finely chopped
1 tablespoon chopped pitted kalamata olives
1/4 cup (20g) grated parmesan
2 teaspoons chopped oregano
2 tablespoons chopped flat-leaf parsley, plus extra for garnish
Salt and pepper
1 egg, lightly beaten
Method
Preheat oven to 200C. Line baking tray with baking paper. Brush mushrooms all over with olive oil. Place hole-side up on baking tray.
In a large bowl, add ricotta, sun-dried tomatoes, olives, parmesan, oregano, parsley, salt, pepper and egg. Stir well with a wooden spoon. Spoon equal amounts into each mushroom. Pile it roughly in the centre.
Bake for 15-20 minutes until topping is golden and outside is tender. Place on serving plate and sprinkle with chopped parsley. Serve.