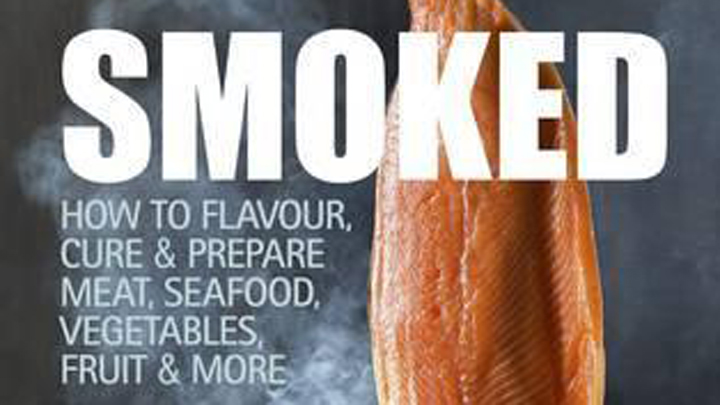 Available for $27.95 via Booktopia
Looking for a challenge? Want to make your food tastier than the expensive delis? Into doing things for yourself? Then 'smoking' your own food may be just for you.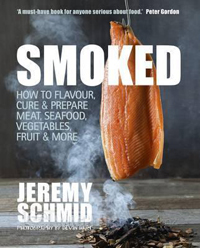 We all know smoked ham, salmon, chicken, cod and cheese but you can smoke other meats, fruit and vegetables, even butter.
Ad. Article continues below.
Jeremy Schmid, in his book 'Smoked' published by New Holland, shows how it's done.
The book is well indexed, has a glossary and measuring guide and list of suppliers. I checked and they are available in Australia.
Smoking food was originally done as a means of preservation, but now is a matter of taste. There are three ways to smoke food. Hot smoking is used for meat, fish fruit and vegetables. There are stove top smokers or cabinet style smokers which are fuelled by wood chips, with hickory being the most popular. Cherry and maple are also used and the stronger smelling woods like manuka and walnut are used in combination with lighter woods. Tea leaves are also used. Tea smoked duck is favourite of mine at Chinese restaurants. I imagine a lot of the fun in smoking is experimenting to make your own distinctive wood blend.
Equipment used is no different to what most kitchens already have with the exception, I would think, of a syringe.
Cold smoking is used dairy, fish and vegetables. The equipment is a little more elaborate as the food needs to be removed from the heat and is smoked with cold smoke. It is also a longer process.
Ad. Article continues below.
Liquid smoke can be purchased online (about $AUD 9.50 for a 210ml bottle) I found by Googling. The liquid smoke is brushed onto the food before cooking or mixed with another liquid such as cream. Schmidt says the result doesn't differ very much from a standard bought product, nor does he give recipes for using liquid smoke.
Schmid's book gives clear step by step photographic illustrations for smoking haunches of meat, fish and salmon; the photography is by Devin Hart.
There are a range of recipes in the book for meat, fish, fruit, vegetables and dairy. Even if you didn't want to smoke your own, you could try some of the recipes using already smoked products.
My thanks to New Holland for the review copy of 'Smoked'.
And here is a recipe you can try at home!
Ad. Article continues below.
Cassoulet of Smoked Sausages
Ingredients
500g dried cannellini beans, soaked overnight in 3L water
1 large onion
3 garlic cloves
2 medium carrots
1 stick celery
1/4 leek
1 tablespoon lard or duck fat
100g uncooked smoked bacon, chopped including rind
100g smoked chorizo, sliced
200g smoked pork sausages, sliced
1 x 400g can crushed tomatoes
375ml veal or chicken stock
1 sprig thyme
1 bay leaf
2 tsp sweet smoked paprika
2 tbsp tomato paste
1 tbsp red wine vinegar
salt and peper, to taste
1 handful breadcrumbs
finely chopped parsley, to garnish
Ad. Article continues below.
Method
Place the drained beans in a large saucepan and cover with water. Bring to the boil and cook for 20 minutes, then drain and set aside.
Preheat the oven to 160-170 celsius.
Lightly chop the onion, garlic, carrot, celery and leek in a food processor.
Put the lard or duck fat into a large pan set over a medium heat.
Saute the vegetables, bacon and sausages together lightly. Place this mixture into a large ovenproof dish. Add the beans, tomatoes, stock, herbs, paprika, tomato paste and vinegar. Season with salt and pepper.
Bake uncovered in the oven for 3-4 hours, or until the beans are soft. Remove from the oven and stir the mixture lightly, then top with the breadcrumbs. Increase the oven temperature to 190-200 celsius and bake for another 12-15 minutes, until golden brown.
To serve, garnish with finely chopped parsley.
Available for $27.95 via Booktopia
Do you smoke your food? How do you do it? If not, would you try it? Tell us below!