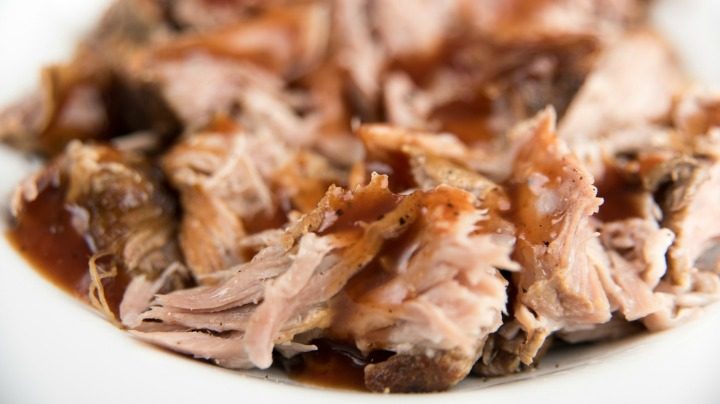 Ana amazing recipe for slow cooker pulled beef is a must for your recipe book! After cooking away for hours, the meat is absolutely gorgeous, succulent and full of flavour. The best thing about it though is its versatility. Divide the meat into four zip-lock bags once it's cooled and freeze until the day you're ready to use them. Once it's time to cook, you can make all sorts of amazing dishes from just the one batch of meat! Try tacos with the pulled beef and plenty of fresh salad and guacamole, or serve it warmed over rice with steamed Asian greens. You can also use it for burgers, wraps, lasagne, and plenty more, too!
Ingredients
2kg chuck roast
1 teaspoon salt
1 teaspoon ground black pepper
2 tablespoons olive oil
1 large onion, chopped
1 1/4 cups diced green chile pepper
1 teaspoon chili powder
1 teaspoon ground cayenne pepper
A few splashes of hot pepper sauce
1 teaspoon garlic powder
Method
1. Trim the roast of any excess fat, and season with salt and pepper. Heat olive oil in a large skillet over medium-high heat. Place the beef in the hot skillet, and brown it quickly on all sides.
Ad. Article continues below.
2. Transfer the roast to a slow cooker and top it with the chopped onion. Season with chile peppers, chili powder, cayenne pepper, hot pepper sauce, and garlic powder. Add enough water to cover 1/3 of the roast.
3. Cover, and cook on High for 6 hours, checking to make sure there is always at least a small amount of liquid in the bottom of the cooker. Reduce heat to Low, and continue cooking for 2 to 4 hours, or until meat is totally tender and falls apart.
4. Transfer the roast to a bowl and shred it using two forks (reserve 2 cups of cooking liquid, if desired). Serve in tacos or burritos..
—————————————————–
If you'd like to see more recipes from Starts at 60, click here. And if you have a recipe you'd like to share with the Starts at 60 community – we'd love to share it! Submit them to us by completing the form below.
Submit your article here