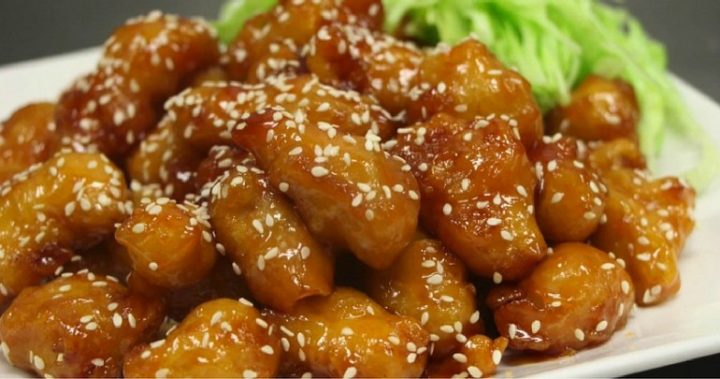 This delicious dish is similar to a Chinese fried chicken, but so much better than what you'd get at the local takeaway shop. The ingredients list is long, but don't be deterred as most are pantry items you'll already have in the cupboard. Once everything is cooking it's an easy process with the sauce bubbling away while you fry up the marinated chicken until it's perfectly tender. The magic really happens when you pour that delicious sauce over the fried chicken and sprinkle over the sesame seeds for the perfect crunch. Serve and a side of rice and Asian greens and enjoy!
Ingredients
Chicken
3 whole boneless chicken breasts
Marinade
Ad. Article continues below.
2 tablespoons light soy sauce
1 tablespoon cooking wine or dry sherry
3 drops sesame oil
2 tablespoons flour
2 tablespoons cornflour
2 tablespoons water
1/4 teaspoon baking powder
1/4 teaspoon bicarbonate of soda
1 teaspoon vegetable oil
Sauce
1/2 cup (125ml) water
225ml chicken stock
3 or 4 tablespoons white vinegar or rice wine vinegar
4 tablespoons cornflour
225g sugar
2 tablespoons dark soy sauce
2 tablespoons sesame oil
1 teaspoon chilli paste, to taste
1 garlic clove, crushed
Frying
Ad. Article continues below.
Serving
2 tablespoons toasted sesame seeds
Method
1. Chicken: Cut the chicken into 2cm cubes. Mix the marinade ingredients and marinate the chicken for 20 minutes.
2. Sauce: Mix together all of the sauce ingredients. Pour them into a small saucepan and bring to a boil; stirring continuously. Turn heat down to low and keep warm while you are deep-frying the chicken.
Ad. Article continues below.
3. Frying: Add the marinated chicken pieces a few at a time to the hot peanut oil. Deep-fry until golden brown then drain on kitchen paper. Place chicken in warm oven (130C) while you continue frying. Repeat with the remainder of the chicken. Just before you are finished deep-frying bring the sauce back up to a boil.
4. Serving: Place the chicken on a large platter and pour the sauce over. Sprinkle with sesame seeds. Serve the Sesame Chicken with rice and greens.
—————————————————–
If you'd like to see more recipes from Starts at 60, click here. And if you have a recipe you'd like to share with the Starts at 60 community – we'd love to share it! Submit them to us by completing the form below.
Submit your article here