Scrumptious wholemeal avocado, banana and oat muffins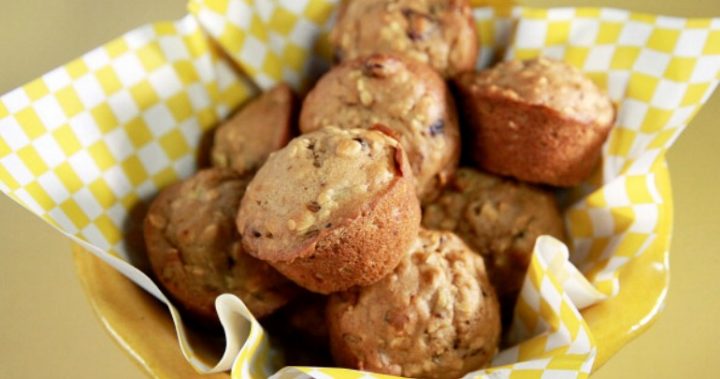 This delicious banana and oat muffin recipe is sure to be a family favourite.
If you're after a tasty and easy snack, these scrumptious muffins work a treat. Rolled oats, mixed with banana and dark chocolate chips, what could be more inviting? And you'll never even notice that for avocado's replaced the butter to make them even healthier.
Ingredients
2 cups wholemeal self-raising flour
1 cup rolled oats
1/2 cup brown sugar
1/2 cup dark chocolate chips
2 eggs
1 cup buttermilk
1/4 cup coconut oil, melted
1 avocado, peeled, stoned, mashed
1 banana, mashed
2 tbsp rolleed oats, extra
2 tbsp brown sugar, extra
Method
Preheat oven to 200°C.
Line muffin pans with paper cases.
Combine flour, oats, sugar and chocolate chips in large bowl.
Combine eggs, buttermilk, oil, avocado and banana in seperate bowl.
Add egg mixture to flour mixture and gently stir with wooden spoon until combined.
Spoon evenly among paper cases.
Combine extra oats and sugar in small bowl.
Sprinkle oat mixture over muffin mixture in pans.
Bake for 20 minutes or until golden.
Transfer to wire rack to cool completely.