Scrumptious enchilada pie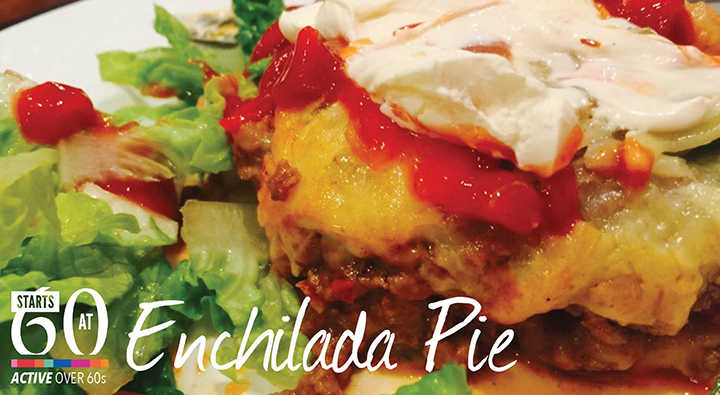 We have an American living with us this year, and she cooked her family's beautiful Enchilada Pie recipe last week to everyone's applause.  In fact, we cleaned the plates it was so yummy.  And to top it off – it was cheap and easy to make.
500g of beef mince
8 tortillas
grated cheese
taco seasoning powder (1-2 sachets)
Ad. Article continues below.
1 onion
1 green capsicum
2 large tomatoes
iceberg lettuce
sour cream
Ad. Article continues below.
avocado
taco sauce
Method
Dice the onion and saute it in the pan.
Ad. Article continues below.
Add the beef mince and brown it before mixing in the taco seasoning as per the instructions (including adding water and allowing it to thicken). Set aside.
Put the chopped tomatoes, chopped capsicum and enchilada/taco sauce and cook for 5-10 minutes until soft.
Layer half the mince into the bottom of the pan, put a tortilla on top (much like layering lasagne)
Pour half of the enchillada sauce/veggie mixture on top and sprinkle some cheese (about 30% of cheese), add another tortilla layer
Ad. Article continues below.
Pour another layer of mince, topped with another layer of tortilla
Top with the final layer of enchilada sauce and another tortilla
Then top it with cheese – lots of cheese!
Then bake in a 180 degree celsius oven for 15-20 minutes until golden.
Ad. Article continues below.
Slice and serve with enchilada sauce on top, a dollop of sour cream and iceberg lettuce for texture.  Avocado optional!