Scrumptious cranberry-Dijon glazed roast ham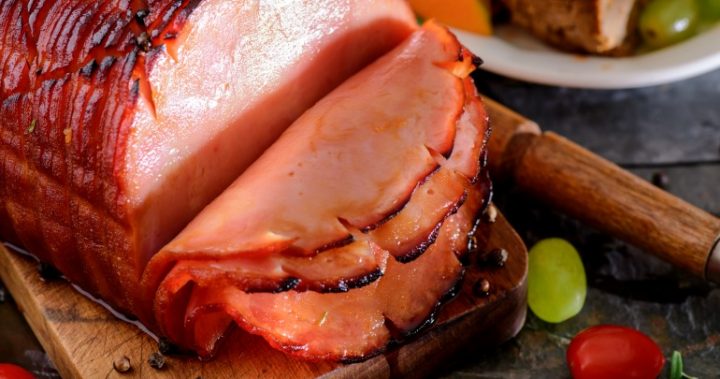 A ham on Christmas day is a must-have and this recipe is perfect for the holiday season and is sure to be a winner at any Christmas celebration!
This delicious ham roast is glazed with a flavoursome Dijon mustard and cranberry sauce and cooked to perfection to provide tender meat and crunchy crackling.
The good news is that the leftovers can be used as a sandwich filling, in a toasty or slow cooked in a delicious pea and ham soup.
It might take a little longer to cook, but is certainly worth the wait.
Ingredients
2 cups fresh cranberries
1/4 cup water
1/4 cup honey
2 tablespoons Dijon mustard
1/4 cup apple cider vinegar
1/2 cup brown sugar
1/2 tsp cayenne pepper
2-3kg cooked ham
Method
Heat cranberries, water, and honey over medium heat in a saucepan.
Stir for 5 minutes until all cranberries have popped.
Add the Dijon mustard, vinegar, brown sugar, and cayenne pepper to the cranberry mixture and cook for 5 minutes until the sauce is combined and thick.
Puree the sauce in a blender and leave to the side.
Preheat the oven to 180 degrees celsius and prepare the roasting pan.
Make sure the pan has a roasting rack so the ham does not go soggy.
Place ham on the roasting rack an score the ham diagonally.
Brush the ham with the cranberry sauce, making sure to save a bit for later.
Place the ham in the oven and roast for 1 1/2 – 2 1/4 hours until a thermometer reads 60°C.
When you are testing the ham, coat the ham with the cranberry sauce another time when you think it the ham has 20 minutes to go.
When the ham is cooked, heat up the remaining cranberry sauce and serve it as a side sauce.
Carve and serve with a festive side salad!