Scrumptious baked berry oatmeal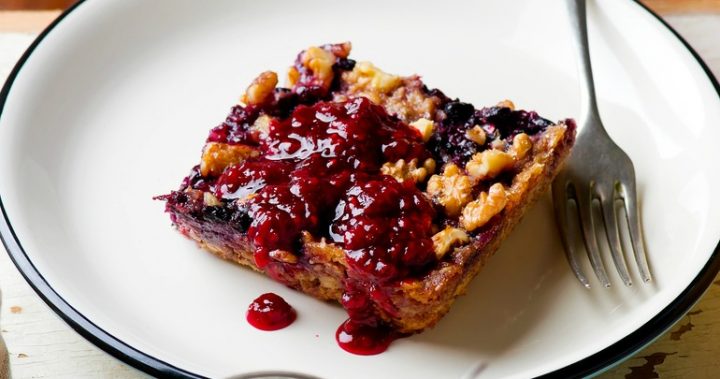 What could be better than a baked breakfast that is both healthy and delicious?
This amazing baked berry oatmeal is super good for you with it oats, dairy, eggs, berries, and nuts, but it tastes like a real treat. Perfect for a wintry weekend morning, or any morning you want to fill up with a tasty and nutritious brekky!
This can be served hot or cold, and can be eaten plain or topped with your favourite fruits or yoghurt.
Ingredients
2 cups quick-cook oats
1 teaspoon baking powder
1 teaspoon cinnamon
1/4 teaspoon salt
1/3 cup packed brown sugar
2 cups low-fat milk
2 eggs
1/2 tablespoon vanilla extract
3 tablespoons honey
1 1/2 tablespoon melted butter
2 cups frozen mixed berries
1/4 cup pecans, chopped
Method
1. Preheat oven to 190C and spray a large baking or casserole dish with nonstick cooking spray.
2. Mix together oats, baking powder, cinnamon, salt, and brown sugar in a medium bowl and set aside.
3. In another bowl, whisk together milk, eggs, vanilla, honey, and butter.
4. Spread half the berries out in the bottom of the prepared baking dish, and then top with the oats and sugar mixture. Pour over the milk and egg mixture, then top with the remaining berries and the pecans.
5. Bake for 15-20 minutes, or until the liquid has been absorbed. Can be served hot or cold.