Sardine and tomato bruschetta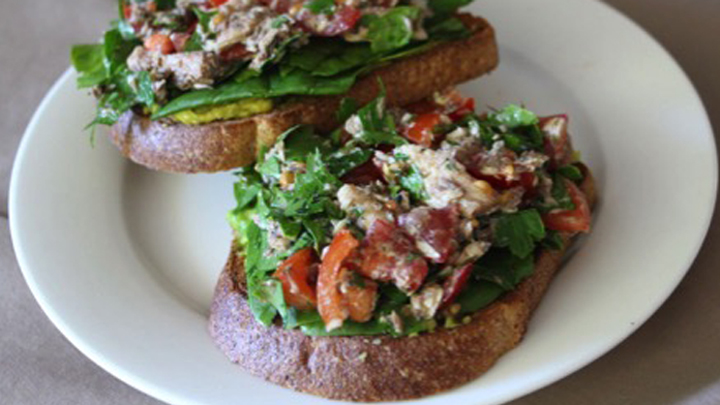 For some people tinned sardines have a bit of a 'gross factor' because they are eaten with bones and everything else. If that's you then this is the perfect recipe as you smash the sardines and won't see any 'bits' in the mixture. Please try it – sardines are a great anti-inflammatory food and high in calcium.
This recipe makes a great quick lunch or dinner.
Ingredients
1 small tin sardines in springwater, drained
1 medium tomato, diced
1/4 cup flat leaf parsley, chopped
2 tablespoons fresh lemon juice
cracked black pepper
1-2 pieces of dark rye bread, sour dough bread or gluten-free bread
1/4 avocado
Handful baby spinach, washed
Utensils
Ad. Article continues below.
Bowl
Toaster/Grill/Sandwich press
Preparation
Place the sardines, tomato, parsley, lemon juice and cracked pepper into a bowl. Mix through well, smashing the sardines.
Toast the bread.
Spread the avocado on the toast. Top with baby spinach and sardine mixture. Serve.
Tips
Bread could be toasted in a grill, sandwich press or toaster. If you can't find a small tin, double all other ingredients and mix up for 2 serves. It will make for a quick breakfast or lunch the next day.
Ad. Article continues below.
Variations
For a gluten free option choose gluten free bread
Add in diced red onion and olives for a stronger taste
This recipe is part of the Wellvess 8-week arthritis program. Our program is packed with delicious anti-inflammatory recipes, cooking tips, latest research on supplements, exercise tips and a forum to connect with others. All recipes have a section like the one below, highlighting anti-inflammatory properties of the ingredients.
Ad. Article continues below.
What's good about this recipe
Sardines are a rich source of long chain omega-3s with one small 110g tin (drained) containing the equivalent of six average fish oil capsules. There is convincing evidence that long chain omega omega-3s (EPA and DHA) can improve symptoms and reduce pain in rheumatoid arthritis, similar to analgesic type anti-inflammatory drugs but without the possible side effects.
Current research also suggests they are helpful for people with other forms of inflammatory arthritis such as ankylosing spondylitis and psoriatic arthritis. There is also evidence that fish oils may help control symptoms of osteoarthritis and lupus. The recommended amount (under medical supervision) is 3 grams per day of EPA + DHA. This is equivalent to 10 average fish oil capsules or 1 small tin sardines + 1 small tin pink salmon.
Sardines are also a great source of calcium (especially important for people that can't tolerate dairy) providing a quarter of the recommended daily intake. However this is only if you are willing to eat the soft bones!