Salted caramel pretzel cheesecake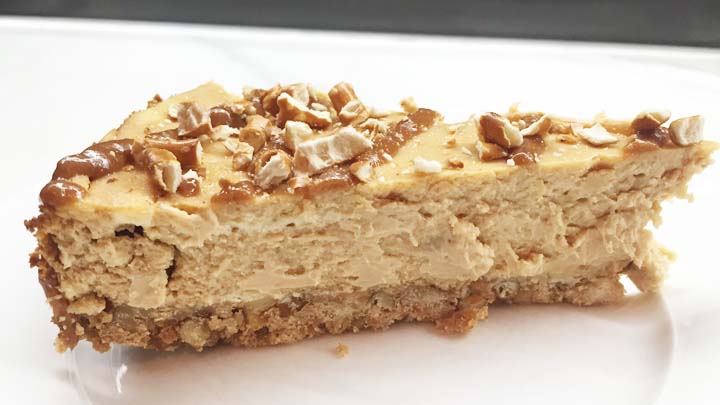 Looking for something not too sweet and not too salty? Then you've come to the right place. This salted caramel pretzel cheesecake is an original version of your typical cheesecake and is so yummy.
Serves 8
Ingredients
Crust
Ad. Article continues below.
1 1/2 cups crushed pretzels
1 cup crushed milk arrowroot biscuits
1/4 cup sugar
1/8 tsp salt
3/4 cup butter, melted
Caramel (you can cheat and use the tinned variety!)
1/3 cup butter
3/4 cup brown sugar
1/3 cup cream
1/2 tsp sea salt
Cheesecake
3 x 250g block of Philadelphia cream cheese softened
1/2 cup sugar
2 eggs, room temperature
1 1/2 tsp vanilla extract
Ad. Article continues below.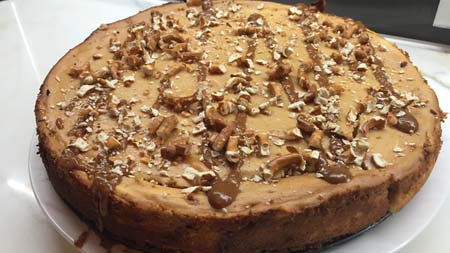 Instructions
Preheat oven to 200 degrees.
Blend biscuits and pretzels, sugar, salt, and melted butter. Press into the bottom of a 20-25cm spring form cake tin.
Bake for 8 minutes. Remove from oven and let cool.
Combine butter, brown sugar, and cream in a medium saucepan. Bring to a boil over medium-high heat, stirring constantly. Lower heat to medium and cook for 7-8 minutes until mixture thickens. Stir in salt one minute before finished cooking. Whisk occasionally to prevent scorching. Remove from heat and cool slightly.
While caramel is cooling, prepare cheesecake. Beat together cream cheese and sugar until creamy. Add in eggs and vanilla extract and beat until mixture is smooth.
Spread all but 1/4 cup of caramel over the top of cooled crust. Spread cream cheese mixture over top. Even top with a spatula.
Bake for 30 minutes or until center is set. Transfer to wire rack and bring to room temperature. Move cheesecake to refrigerator and refrigerate for at least 4 hours before serving.
Drizzle with remaining caramel and sprinkle lightly with a few more crushed pretzels.
Variety
If you are not so confident with the caramel (in other words you think you might burn it), you can prepare the cheese mixture and gently stir in ¾ of a tin of caramel just before adding to the crust. Done successfully this will give a caramel swirl effect to your cake.
Ad. Article continues below.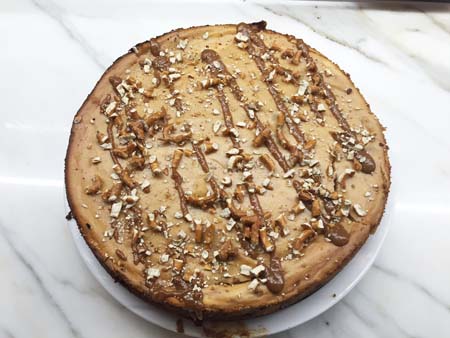 —————————————————–
If you'd like to see more recipes from Starts at 60, click here. And if you have a recipe you'd like to share with the Starts at 60 community – we'd love to share it! Submit them to us by completing the form below.
Submit your article here