Rustic cheese, zucchini and leek tarts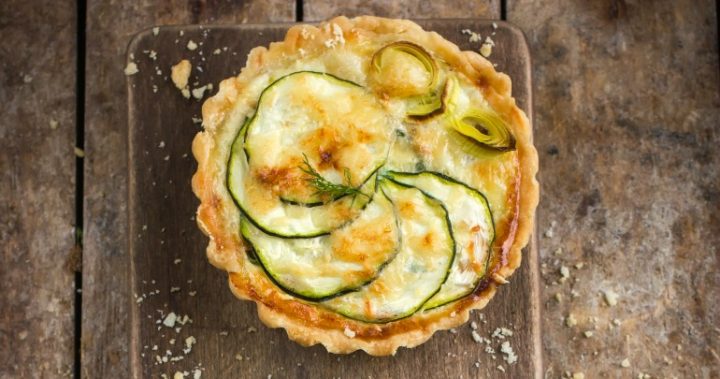 It's never too early to start planning your Christmas menu and this delicious recipe is a winner. A fantastic picnic or lunch companion, these zucchini tarts work a treat.
This delicious tart is made up of shortcut pastry and a cheese filling, completed with zucchini, leek and bacon, all working together to create a mouth-watering flavour.
This recipe also goes great with a fresh garden salad on the side.
Ingredients
3 eggs
1/2 cup self-raising flour
2 medium zucchini, sliced
2 medium leek, sliced
2 middle bacon rashers, trimmed, finely chopped
1/2 cup grated pizza cheese
1 tbsp extra virgin olive oil
4 sheets frozen shortcrust pastry, partially thawed
Method
Preheat oven to 180°C.
Line two baking trays with baking paper.
Whisk two eggs in medium bowl. Add flour, whisk until smooth.
Stir in zucchini, leek, bacon, cheese and oil.
Using a 20cm plate (as a guide), cut a 20cm circle from each pastry sheet.
Place on prepared trays.
Spoon mixture into centre of each pastry circle.
Leaving a 3cm boarder, spread mixture over pastry.
Fold and pleat pastry border around filling.
Whisk remaining egg.
Brush pastry edges with egg.
Bake for 40 minutes or until golden.
Sprinkle parsley leaves on top and enjoy!