Rosemary and garlic braised lamb shoulder with roasted sweet potato mash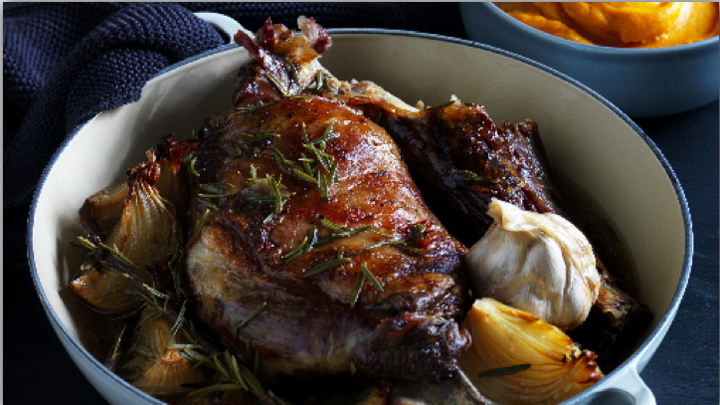 Rosemary and garlic braised lamb shoulder
Serves 4 – 6
Ingredients:
2 kg lamb shoulder, bone in

Sea salt and cracked black pepper, to taste

2 medium onions, about 300 g,

quartered

1 whole head of garlic, peeled and roughly chopped

1 bunch rosemary

150 ml white wine

2 L beef stock
Method:
Ad. Article continues below.
Preheat oven to 160ºC. Season the lamb really well with salt and pepper. Heat a heavy-based ovenproof dish with a tight-fitting lid over a medium heat. Add the lamb, fat side down. After a minimum of 5 minutes, turn the lamb over and cook on the underside for a further 5 minutes until nicely browned.
Add the onion, garlic, rosemary and wine and allow the wine to cook for a few minutes and reduce before adding the stock. Place the lid on the dish and put in the centre of the oven for 3½ hours. Remove the lid to check the meat by gently pressing the meat with a pair of tongs – it should fall away from the bone easily; if not, return to the oven for another 40 minutes or so and check again.
Remove the meat from the pan and place on a chopping board. Remove the bones and discard and, as you do this, remove any visible fat and connective tissue. Shred the meat and place in a bowl.
Strain the liquid from the pan and allow the fat to settle on the top. Skim the fat from the liquid and discard. Pour some of the juices onto the meat and stir well.
Divide the meat between each serving plate with 3 tablespoons sweet potato mash and the remaining pan juices.
Roasted sweet potato mash
Serves: 6 – 8
Ingredients:
Ad. Article continues below.
1 kg sweet potatoes
Sea salt and freshly cracked
black pepper, to taste
Method:
Preheat oven to 200°C.

Place sweet potatoes on a rack in the centre of the oven and cook for 45 minutes. They are ready when a skewer pierces the centre of the flesh easily; if not, continue to cook for a further 15 minutes.

Remove and allow to cool.

Cut the sweet potato down the centre and scoop out the flesh. Mash into a smooth consistency in a small blender with seasoning.

Ad. Article continues below.
Taken from Get Commando Fit Cookbook
Available for $23.95 from Booktopia
Would you consider this dish instead of a Sunday roast? Do you have any family meal traditions?