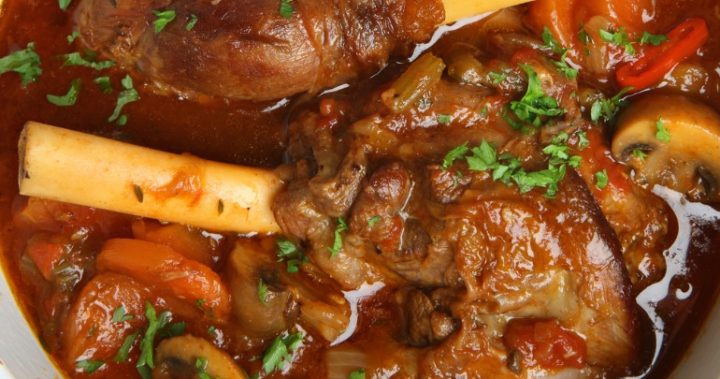 What a combination! The amazing flavour of a beautiful Rogan Josh curry with delicious slow cooked lamb shanks… This is one of those recipes that never fails to impress and best of all it takes hardly any time to prepare before cooking for eight hours in the slow cooker to allow all those flavours to develop and turn into one knockout dish. Work on the grounds on one shank per person so everyone gets a generous serve and dish it up with rice, coriander and a dollop of natural yoghurt. It's a winner every time!
Ingredients
2/3 cup sour cream
1 tablespoon plain flour
2 tablespoons cornflour
1/4 cup water
1/2 teaspoon chilli powder
1 teaspoon ground coriander
1/2 teaspoon ground ginger
2 chicken stock cubes
4 whole cardamom pods, broken
1 (400g) can diced tomatoes
1 cup water
Ground nutmeg to taste
1 large brown onion, cut into wedges
4 lamb shanks
1 large carrot, diced
400g whole small potatoes, washed but not peeled
250g button mushrooms, quartered
Method
1. Combine the sour cream and the flour together in a small bowl. In a separate small bowl, mix together the cornflour and the water to make a paste. Combine the chilli powder, coriander, ginger, stock cubes, cardamom, tomatoes, water and nutmeg in a medium saucepan; bring to the boil.
Ad. Article continues below.
2. Slowly add the cornflour paste to the tomato mixture, stirring constantly; simmer for 2 minutes. Remove the saucepan from the heat and slowly stir in the sour cream and flour mixture.
3. Arrange the onions in the base of a slow cooker, top with the shanks and pour over the tomato mixture. Place the carrots, potatoes and mushrooms on top of the sauce. Cover and cook in the slow cooker on High for 8 hours.
—————————————————–
If you'd like to see more recipes from Starts at 60, click here. And if you have a recipe you'd like to share with the Starts at 60 community – we'd love to share it! Submit them to us by completing the form below.
Submit your article here