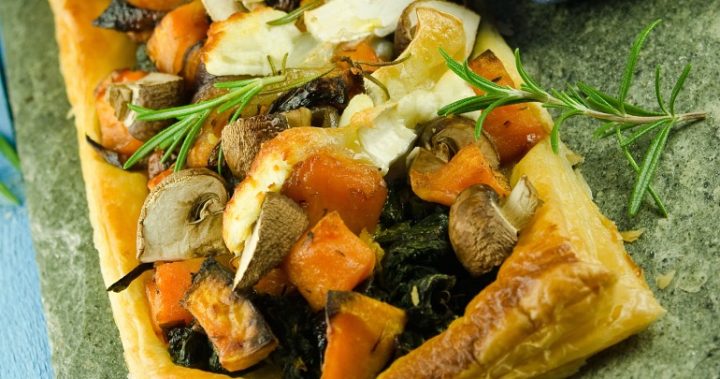 This tart is absolutely packed with flavour and is so versatile you can mix it up every time and never get bored. The puff pastry is light, golden and crunchy and makes the perfect match for the roasted veg on top. Hiding in the middle is a delicious egg and cheese mix, which adds that extra flavour and turns this tart into more of a hearty and filling meal. You can use whatever veggies you like on top – mix it up as the seasons change and use whatever is fresh, affordable and available. It's the best way to eat and makes this tart a winner every time!
Ingredients
1/4 butternut pumpkin, peeled
5-6 button mushrooms
1 red onion
1 cup chopped frozen spinach, thawed
2 garlic cloves, crushed
5 tablespoons (100ml) olive oil
Puff pastry, enough to cover tart pan
300g low-fat ricotta
2 eggs
1/2 cup (50g) grated parmesan
2 teaspoons chopped rosemary
Method
1. Preheat oven to 190°C. Grease a 30 x 11cm loose-bottomed, rectangular tart pan.
Ad. Article continues below.
2. Cut the pumpkin, mushrooms, red onion into 1-2cm chunks. Place in a bowl with the garlic and olive oil, and toss to coat in the oil. Tip the vegetables onto a large baking tray and spread out evenly. Bake in oven for 20 minutes or until cooked through and slightly charred, then set aside.
3. Line the prepared pan with pastry, then line with baking paper. Fill with pastry weights or rice and blind bake for 7-10 minutes.
4. Meanwhile, beat together ricotta, eggs, parmesan and rosemary. Fill pre-baked tart shell with ricotta mixture and place in oven for 15 minutes or until set. Microwave spinach for 30 seconds to warm, then spread on top of ricotta mix and top with roasted vegetables. Return to oven for 5 minutes to warm through. Garnish with extra rosemary, if desired.
—————————————————–
If you'd like to see more recipes from Starts at 60, click here. And if you have a recipe you'd like to share with the Starts at 60 community – we'd love to share it! Submit them to us by completing the form below.
Submit your article here