Roasted pumpkin, sweet potato and mushroom lasagne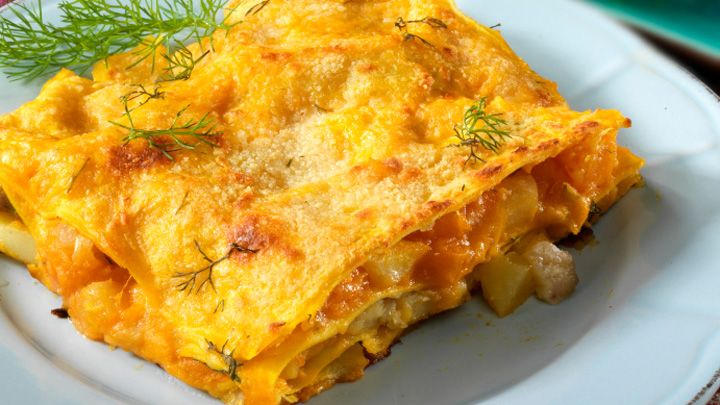 This roasted pumpkin, sweet potato and mushroom lasagne is a great twist on the traditional meat lasagne. It's also good for you – it's low GI and filled with fibre and sodium. Not to mention it's packed full of flavour and is easy to make.
Serves 4
Ingredients
200g pumpkin, diced into 1cm cubes
200g sweet potato, diced into 1cm cubes
1 large sprigs rosemary
2 cloves crushed garlic
500ml skim milk
1/2 onion
1.5 tbsp plain flour
125g cottage cheese
100g sliced mushrooms
1/2 sliced shallot
25g grated reduced fat cheese
120g dried lasagne sheets
pepper to taste
Ad. Article continues below.
Method
Preheat oven to 200 degrees
Mix pumpkin, sweet potato, rosemary, garlic and pepper in a bowl
Place on a grease tray and bake for 20 minutes until golden
Scald milk with onion and let sit for 10 minutes. Dilute the flour with a little water, add to the milk, simmer for 5 minutes and add the cheese.
Spray lasagne dish with cooking oil and add a layer of lasagne sheets. Add 1/4 of the sauce and 1/4 of the pumpkin, potato, mushroom and shallot. Continue until all ingredients used
Sprinkle with grated cheese. Bake for 35-45 minutes and rest before serving.
—————————————————–
If you'd like to see more recipes from Starts at 60, click here. And if you have a recipe you'd like to share with the Starts at 60 community – we'd love to share it! Submit them to us by completing the form below.
Submit your article here