Roasted pumpkin and bacon cream pasta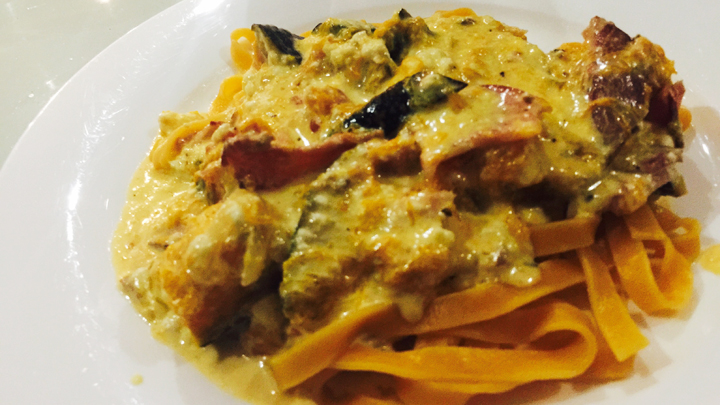 This pumpkin, roasted in cumin and bacon fat and served in a creamy bacon-y pasta, can be whipped up in 20 minutes with a glass of wine in one hand and the other one tied behind your back. This folks is a recipe to impress friends, husbands, wives and lazy people together.
Ingredients
¼ Jarrah pumpkin
400g short cut bacon
1 brown onion
2 teaspoons cumin
salt and pepper to taste
500ml lite cream
500g linguini (We found a pumpkin and basil flavoured pasta at a local deli for extra flavour)
Method
Ad. Article continues below.
Slice pumpkin into wedges, sprinkle with cumin seed and spray with extra virgin olive oil (leave skin on if you like pumpkin skin).
De-rind the bacon but leave in full pieces.
On the same tray, lay the bacon pieces around the pumpkin wedges.
Bake the bacon and the pumpkin on a tray until both are cooked.
Boil water and cook pasta as per packet instructions.
Remove bacon and pumpkin from oven and cut into chunks.
Fry onion in pan until brown, add bacon, pumpkin and pour cream over to create a chunky sauce.
Pour pasta sauce over cooked al dente linguini pasta.
Enjoy!