Roast pork shoulder with crackling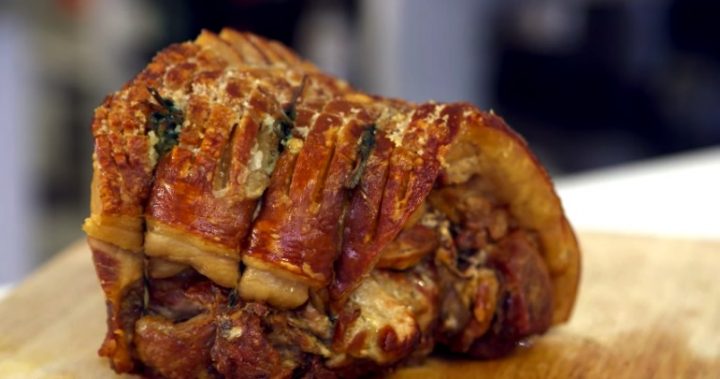 For most Aussie families, Christmas means a top-notch piece of roast pork with plenty of crackling on top. This amazing version delivers the best crackling every time, with a super salty and crunchy finish that will make your mouth water with every bite! The apples, shallots and sage are the perfect accompaniment with the flavourful juices used the based the meat and the sides throughout so all that amazing flavour covers every inch of the dish. Let it rest before serving to ensure the meat is perfectly juicy and succulent, then dish up slices with the apples and shallots and whatever other sides you like. Tip: You can also use the remaining juices to make a gravy!
Ingredients
1.4 – 2.4kg large pork shoulder
1-2 tablespoon flaked sea salt
1-2 tablespoon freshly ground black pepper
4-5 cox apples, halved horizontally
6 brown shallots, peeled and halved horizontally
Small bunch of sage, washed and finely chopped
Method
1. Remove pork from fridge 30 minutes before cooking and place out of its packaging on a chopping board.
Ad. Article continues below.
2. Preheat oven to 220C, fan 200C, gas 7. Meanwhile, dry the pork all over with a kitchen towel. Keep patting pork down until it is as dry as possible. Mix salt and pepper together and rub mix on top of skin and into score lines.
3. Place pork in a large roasting pan and roast for 25 minutes before reducing heat to 180C, fan 160C, gas 4. Calculate remaining cooking time allowing 25 minutes per 500g, plus an extra 30 minutes. If the crackling starts to become too dark, cover with a loose piece of foil. 45 minutes before the end of cooking time add apples, cut side up, and shallots. Baste with the pork juices. 20 minutes before the end of cooking time stir sage into the cooking juices and baste apples and shallots.
4. When cooked, remove pork, apples and shallots from oven. Check meat juices run clear. If the juices are pink continue roasting for a further 10-15 minutes or until juices run clear. Transfer to a warm serving plate. Cover loosely with foil and allow to rest for at least 15 minutes.
5. To serve, remove crackling from pork and break into pieces. Carve pork into thick slices and serve straight away with pieces of crackling, apples, shallots, and any extra roast veggies you like.
—————————————————–
If you'd like to see more recipes from Starts at 60, click here. And if you have a recipe you'd like to share with the Starts at 60 community – we'd love to share it! Submit them to us by completing the form below.
Submit your article here