Rich chocolate cheesecake trifle with sweet cherries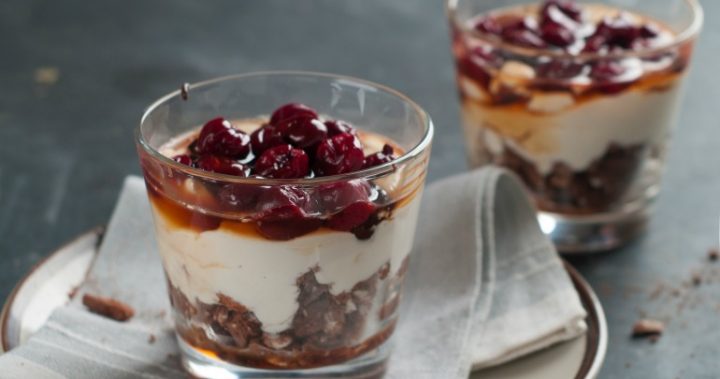 When it comes to trifle, it's fair to say that's it's one of those desserts people either love or hate.
Some people can't get enough of the combination of succulent flavours, while others are turned off by the mishmash of textures in the layered dessert.
While you'll probably be eating a lot of trifle in the lead up to Christmas, it's hard to beat this rich chocolate cheesecake trifle with sweet cherries.
If you're the kind of person who loves to combine dark chocolate with summer fruit flavours, this is a dessert you're going to love.
Ingredients
2 packets blackcurrant jelly crystals
250g spreadable cream cheese
900ml thickened cream
1/3 icing sugar
180g melted dark chocolate
420g stoneless black cherries, halved
280g double chocolate butter cake
1/3 cup brandy
maraschino cherries
Method
Following instructions on pack, make jelly.
Using mixer, beat cream cheese, 300ml cream and icing sugar until fluffy and combined.
Add chocolate to mixture and gentle mix in.
Ensure cherries are dry and fold into mixture.
Cut cake into squares and place on set jelly. Splash with brandy and spread cream cheese mixture over the top. Cover in plastic and cool for 1 and a half hours.
Using mixer, beat remaining cream until soft. Spread over trifle.
Pour the maraschino cherries on top.
For added flavour, feel free to add dark chocolate pieces or even other berries on top. You can also dust with cocoa to make it more presentable.