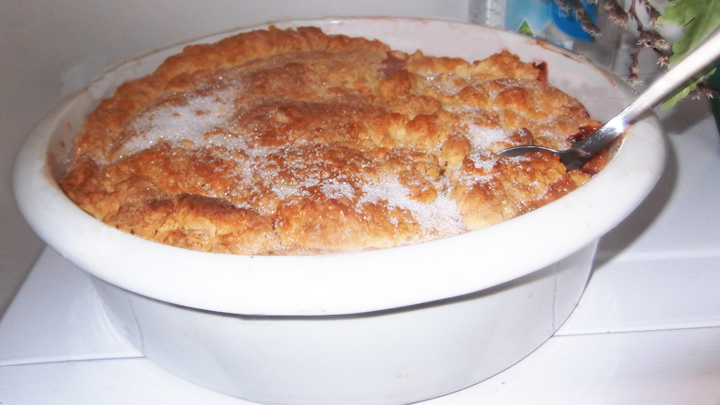 I am a 'throw it together' cook, so this pie was the result of being given some rhubarb and deciding about 40 minutes before our meal last night to make a pie.
This pie would serve eight, well, unless they had my appetite.
Ingredients
Eight sticks of rhubarb
Five crisp green apples
3 tbsp sugar
Pastry (I don't measure anything, so forgive the approximate amounts). You may have a favourite rich pastry recipe, or prefer to use frozen shortcrust.
Cup and half of self-raising flour
150g butter
1 tbsp icing or castor sugar
1 tsp vanilla essence
Pinch of salt
1 egg beaten
Splash of water
Method
Ad. Article continues below.
I used approximately eight large sticks of rhubarb, cleaned and chopped into pieces. These I placed in a deep dish with foil covering and a few tablespoons of water. This makes juice so shouldn't be drowned. As it cooked I chopped five sharp flavoured apples and put them in the microwave covered with cling wrap for about five minutes. The rhubarb took about 15 minutes to cook in oven at 185 degrees but could be microwaved also. I just think it tastes better being baked.
I added the apples to the cooked rhubarb and sprinkled enough sugar to take away the sharp flavour, and gently mixed the two fruits.
This is a hard to handle pastry. I rubbed in the butter, added the sugar and egg, flavouring, then mixed gently, it is already a very soft pastry, so added a tiny splash of water, I then tried to roll into a ball, with difficulty. I put it onto a large piece of floured baking paper and gently pressed it into a large circle. It takes skill to get it onto the top of the fruit, so if you want to make it easier put it in the fridge for half an hour to firm up. If it breaks when you transfer from paper to dish just seal the holes, and it will still cook perfectly. I put it in a small fan assisted oven at 185 degrees for 40 minutes.
This is the perfect time of year for hearty fruit pies, using fallen apples, or the last of the stone fruit.
We had ours with a spoon of whipped cream, but custard or some good vanilla ice cream would also be great.
 —————————————————–
If you have a recipe you'd like to share with the Starts at 60 community – we'd love to share it! Submit them to us by completing the form below. 
Submit your article here