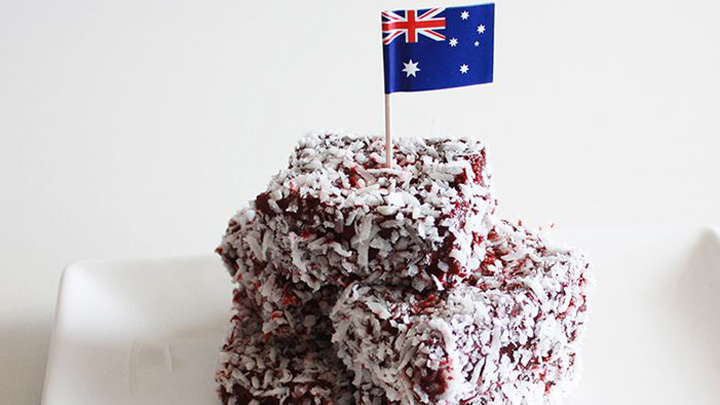 We know you all love the classic Aussie lamington, so we bring you the red velvet lamington with a modern twist! All you need to do is make a red velvet cake and sandwich the blocks together with cream cheese icing and coat with chocolate. It can be a messy process so allow yourself time to make the sponge cake and put it all together but it's definitely worth it.
Ingredients
Sponge cake
4 eggs
190g plain flour
190g granulated white sugar
190g butter, room temperature
40g cornflour
1tsp baking powder
1tsp cream of tartar
2 tablespoons cocoa
1tsp vanilla essence
1 tablespoon red food colouring
2 tablespoons buttermilk
1 tsp white vinegar
Ad. Article continues below.
Cream cheese frosting
100g cream cheese
25g softened butter
1 1/2 cups icing sugar
Chocolate covering 
150g dark chocolate
Full cream (start with a few tablespoons then add until mixture is at dipping consistency)
Icing sugar, to taste
150g desiccated coconut
Ad. Article continues below.
Method
Preheat oven to 180C
Grease and line 20cm cake tin with baking paper.
Mike the butter, sugar, flour and cocoa. Add one egg at a time.
Then combine the vanilla, red colouring, vinegar and buttermilk. Make sure to incorporate plenty of air while stirring. Try not to over mix!
Place in tin and bake for 25 minutes or until a skewer comes out clean. Let cool.
For the cream cheese filling, mix the butter and cream cheese and then combine the sugar.
Divide sponge into 20 squares and made 1o filled cakes. Now the cakes are ready for icing.
Melt the chocolate in a bowl over hot water and mix in milk and sugar. Dip each cake into the mixture then into a bowl of coconut until evenly coated. It can get a bit messy!
Tell us, will you try making red velvet lamingtons? Is there anything more Aussie than the lamington?