Quick no yeast cheesy Vegemite scrolls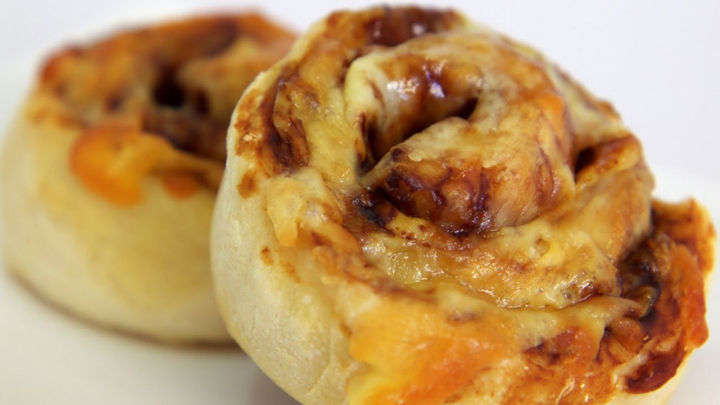 Looking for a quick breakfast or afternoon meal but don't want to wait for it? These cheesy Vegemite scrolls are quick because they have no yeast in them.
The grandies will love them too!
Ingredients
2.5 cup(s) wholemeal self-raising flour   

2 tsp baking powder   

Light canola spread   

275 ml skim milk   

1.5 tbsp Vegemite   

120g extra light cheddar cheese   
Method
Ad. Article continues below.
Preheat oven to 220°.
Sift flour, baking powder and ½ tsp salt into a bowl then rub through canola spread.
Stir in enough milk to make a soft dough and knead gently on a lightly floured surface. Roll to form a 40cm x 25cm rectangle.
Spread Vegemite over the dough, then sprinkle over cheese. Roll up on the longer side to keep the cheese in. Cut into 12 even slices and place on a non-stick baking tray sprayed with oil. Make sure that scrolls are not touching.
Bake in preheated oven for approximately 10 minutes, or until golden brown and cooked.
Notes
These rolls can be stored in the fridge for 1-2 days and can be served hot or cold. You can freeze for up to three months.