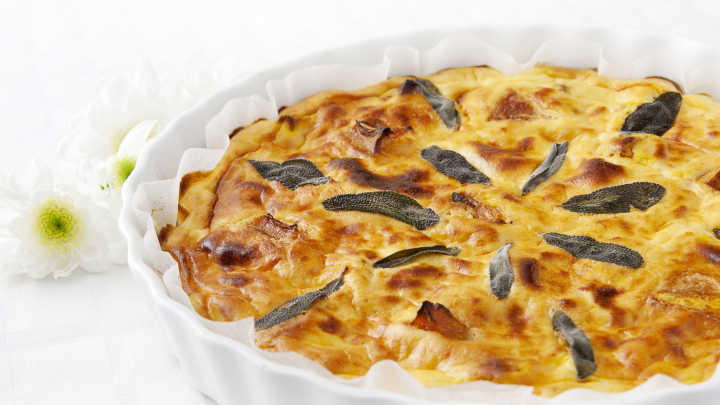 This pumpkin and sage flan is both tasty and versatile. You can serve it hot or cold and even try playing around with the presentation. For example, try using a muffin pan for a single serve!
Serves 6
Ingredients: 
250g butternut pumpkin (butternut squash), peeled, diced
500g fresh ricotta cheese
3 eggs, lightly beaten
3 tablespoons fresh sage leaves
Method
Ad. Article continues below.
Preheat the oven to 200°C. On a paper lined baking tray dry bake the pumpkin for 15 minutes or until just tender. Line a 23cm quiche dish with baking paper and place three-fourths of the roasted pumpkin in it. In a bowl, whisk together the ricotta and eggs. Pour the mixture over the pumpkin, sprinkle with the sage, and season with sea salt and pepper to taste. Dollop the remaining pumpkin around the top of the flan. Bake until firm and golden, 35 to 40 minutes. Let cool before removing.
Optional: These can also be made in muffin tins for single serves. The baking time will be about 15 minutes.

Ad. Article continues below.
Taken from: 4 Ingredients One Pot One Bowl
Available for 20.95 from Booktopia
Do you like the sound of this recipe? How would you like this flan served?