Pumpkin ricotta cheesecake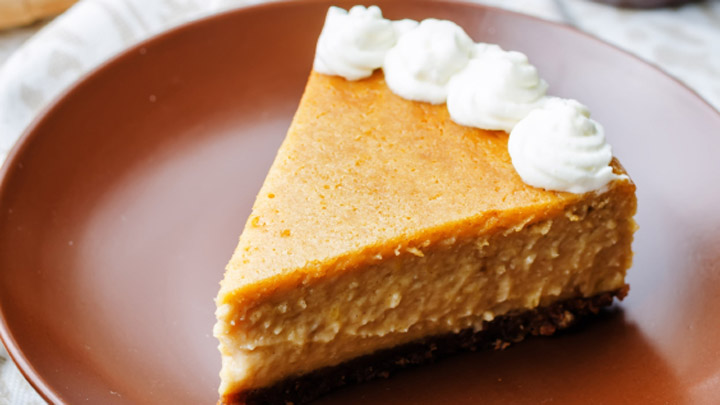 Move over traditional cheesecakes, this pumpkin ricotta cheesecake will knock your socks off! It is so creamy and delightful, you won't want to share it.
You can choose to serve with cream or without, but regardless, it'll taste delicious!
Ingredients
Walnut base
2 ½ cups walnuts or pecans
¼ tsp ground cinnamon
⅓ cup sugar
4 tbsp unsalted butter, melted
¼ cup flour
pinch of salt
Ad. Article continues below.
Pumpkin Ricotta Cheesecake
450g ricotta cheese
280g cream cheese
½ cup sugar
¾ cup light brown sugar
5 large eggs, separated
1¼ cup flour
1 tsp vanilla extract
2 cups pureed pumpkin*
1 tsp cinnamon
1.5 tsp pumpkin spice (1/2 teaspoon each of ground ginger, nutmeg and allspice)
¼ tsp salt
Method
Walnut base
Add the walnuts, cinnamon, sugar, butter and flour to a blender and grind down.
Spread over the bottom of the cake pan (9-inch circular) and press down to cover the entire base and a little bit up the side.
Place pan in the fridge for about an hour.
Ad. Article continues below.
Cheesecake
Preheat to oven to 180 degrees
In a large bowl, mix flour, salt, brown sugar, sugar, cinnamon, pumpkin spice then set aside.
Whisk the egg whites until stiff peaks form.
In the bowl of your mixer add the ricotta cheese and cream cheese and mix together. Add pumpkin and mix until well incorporated. Add egg yolks, vanilla extract and mix well. Add dry ingredients and mix everything together.
Gently fold in the egg whites, a third at a time.
Pour the pumpkin cheese mixture into the cake pan over the walnut crust and bake for an hour, though you need to bake it until the centre is firm.
Cool completely before serving.
* To puree pumpkin
Bring a large pot of lightly salted water to a boil then add half a small pumpkin, cut into small, peeled pieces.
Cook until the flesh is tender when pierced with a knife.
Puree the pumpkin in a food processor or blender until desired consistency.