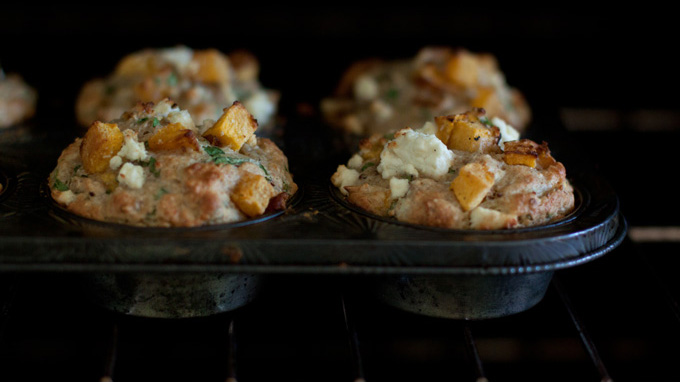 Have you heard of Brinner? It's the new craze in dining: Breakfast-for-Dinner! Why deny yourself the delights of eggs, syrup and butter in the evening? Try this delicious twist on the humble breakfast muffin… tonight!
Ad. Article continues below.
Ingredients
1 tablespoon unsalted butter
2 tablespoons olive oil
2 cups cubed pumpkin or butternut squash, 1/2-inch cubes
salt and pepper to taste
1 large handful of baby spinach, chopped
3/4 cups freshly grated Parmesan
tbs of mustard (wholegrain/hot/plain – your choice)
1/2 cup cubed feta
2 large eggs, lightly beaten
180 ml milk
2 cups flour
Method
Preheat oven to 200°C. Place pumpkin in roasting pan, sprinkle with oil and season with salt and pepper. Bake for 20-25 minutes or until cooked through and slightly mushy.
Put the cooked pumpkin to a large mixing bowl, add spinach, parmesan, feta and mustard. Mix through. In a separate bowl, beat eggs and milk together and add to pumpkin mix. Sift flour and baking powder into the mixture, add salt and pepper and fold through, being careful not to over mix.
Spoon mixture into a greased 12 hole muffin tray and bake at 200°C for 15 – 20 minutes or until cooked through.