Proper English cottage pie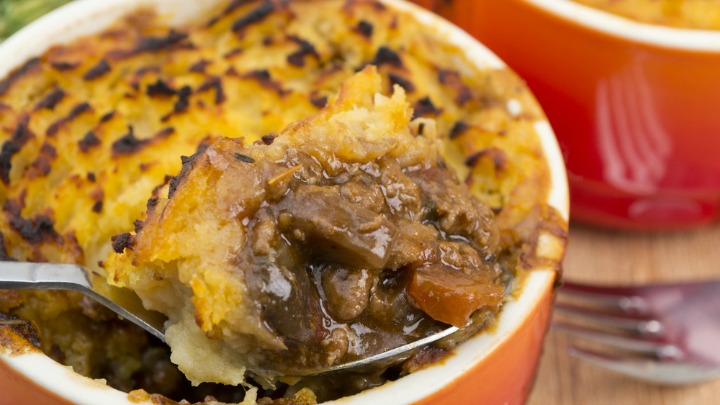 There's nothing quite like traditional recipes that have been around for decades, or even centuries. They've had time to be improved upon, reinvented and reworked until they're just right and full of delicious flavours. This cottage pie recipe is one that has changed over the years and is now as tasty as can be. It uses Italian seasoning and cinnamon to enhance the meat and the top is covered with a delicious mash and cheese that turns perfectly golden and crunchy.
Ingredients
1 pound lean beef mince
1 onion, diced
3 carrots, diced
2 tablespoons plain flour
1/2 teaspoon ground cinnamon
1 tablespoon Italian seasoning
2 tablespoons chopped fresh parsley
1 1/2 cups beef stock
1 tablespoon tomato paste
Salt and pepper to taste
4 potatoes, peeled and diced
1/4 cup butter, softened
1 cup milk
Salt and pepper to taste
100g grated Cheddar cheese
Method
1. Preheat oven to 200 C. To Make Meat Filling: Place a large skillet over medium heat. Crumble in ground beef and saute 1 minute. Add onion and carrot, then continue to saute until meat is no longer pink and onion begins to brown, about 5 minutes. Mix in flour, cinnamon, mixed herbs, and parsley.
Ad. Article continues below.
2. In a small bowl, combine beef broth and tomato paste. Mix together, then add to beef mixture. Add salt and pepper to taste. Lower heat and simmer mixture for 15 minutes, stirring occasionally, until almost all of liquid has been absorbed. Spoon mixture into a 9 inch pie plate.
3. To Make Potato Topping: Place diced potatoes in a medium saucepan. Cover with water and place over high heat. Allow to come to a boil. Boil for 15 minutes, or until potatoes are tender. Drain.
4. Mash potatoes until smooth, then add butter or margarine, followed by milk. Whip until fluffy. Add salt and pepper to taste. Spread potatoes over beef filling. Sprinkle with grated Cheddar cheese.
5. Bake in preheated oven for 25 minutes, until top is browned and cheese is bubbly.
—————————————————–
If you'd like to see more recipes from Starts at 60, click here. And if you have a recipe you'd like to share with the Starts at 60 community – we'd love to share it! Submit them to us by completing the form below.
Submit your article here