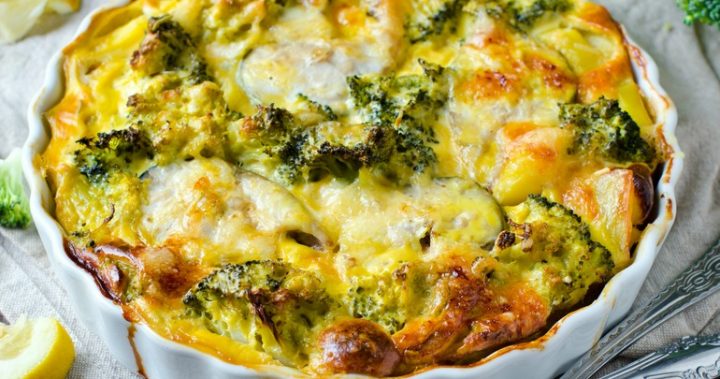 Cheesy, comforting and absolutely delicious! This potato and broccoli bake is a winner every time and really brings the flavour. It's easy to whip together and is great for a budget-friendly option during the week, too. Add extra veg if you like – mushrooms, capsicum and corn kernals all work well. You can serve it with extra vegetables if you like, or just enjoy on its own for a tasty and more-ish meal!
Ingredients
750g potatoes, unpeeled
300g broccoli
3 garlic cloves, diced
150g frozen peas
30g butter
30g flour
600 ml milk
Salt, pepper
2 bay leaves
20g Parmesan
150g cheddar cheese
150g ham, diced, fried
Method
1. Preheat oven to 200C. Put potatoes in salted boiling water and cook until tender. Wash, clean and cut broccoli florets. Thaw peas in warm water. Drain potatoes and let cool slightly, then peel and cut into about 1/2 cm thick slices.
Ad. Article continues below.
2. Melt butter in a saucepan and sauté garlic over medium heat. Add flour and cook, stirring. Deglaze the pan with the milk and bring to a boil. Add salt, pepper and bay leaves. Simmer for about 10 minutes, stirring occasionally. Remove bay leaves. Parmesan cheese and 50g cheddar.
3. Put potatoes, peas, broccoli, ham, 50g of cheddar and the sauce in a large bowl and mix well together. A baking dish (about 25 x 20 cm) greased with a little butter. Put potato and broccoli mix in baking dish. Sprinkle with the Parmesan and the remaining cheddar.
4. Bake on middle rack for 45-55 minutes, until the cheese is golden brown. Remove from oven and leave to sit for 5 minutes before serving.
—————————————————–
If you'd like to see more recipes from Starts at 60, click here. And if you have a recipe you'd like to share with the Starts at 60 community – we'd love to share it! Submit them to us by completing the form below.
Submit your article here