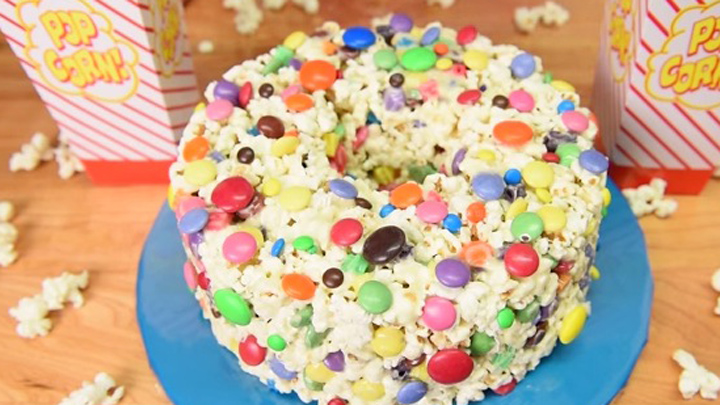 This popcorn cake is the perfect treat, not only for the grandchildren, but for you too! The cake has salty and sweet flavours and is deliciously gooey. Have you ever made a popcorn cake before?
Take a look at this unbelievable recipe!
Ingredients 
2 packets of microwave popcorn
2 cups of M&Ms (or anything other chocolate you love)
1/2 cup of broken pretzel sticks
8 cups of marshmallows
1/2 cup of butter
Method
Ad. Article continues below.
Prepare a bundt cake tin and cover with cooking spray
Put the 2 packets of popcorn in a bowl, make sure you remove the kernels that didn't pop
Add the M&Ms and pretzels to the mix
In a saucepan, melt butter in the microwave
When melted add the 8 cups of marshmallows
Stir till you get a smooth consistency
Add all ingredients into the bundt tin
Place foil over the mixture  and let it sit for 2 hours
When ready, flip the cake on a stand (if it is struggling to come out of the tray use a knife to cut the edges)
You can store the cake in a sealed tupperware for 2 days (best recommended to eat on the same day)
This popcorn cake is the perfect alternative for a birthday cake.
Will you try this recipe? Do you use popcorn in any other treats?