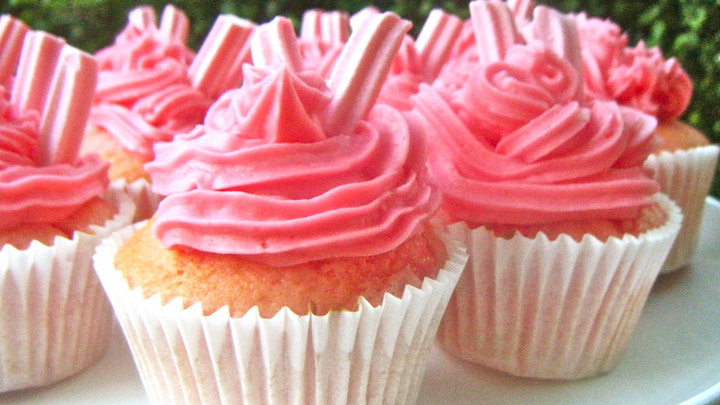 These cupcakes will bring back wonderful memories of your childhood. We bet many of you are very familiar with musk sticks and now we've found a recipe so you can bake with them! These cupcakes are absolutely delightful and we reckon your grandkids will love them too.
Take a look at the recipe below! 
Ingredients
Cakes
Ad. Article continues below.
2 cups self-raising flour
1 cup caster sugar
1 cup buttermilk
2 large eggs
3 teaspoons rosewater essence
130g unsalted butter, melted
140g musk sticks
5 drops of pink food colouring
Icing
125g unsalted butter, softened
2 cups icing sugar
4 teaspoons rosewater essence
3 drops of pink food colouring
8 musk sticks, grated
7 musk sticks cut into quarters to decorate
Method
Ad. Article continues below.
Cake
Preheat oven to 180C and line muffin tin with 14 paper cases.
In a bowl, combine the self-raising flour and caster sugar; make a well in the middle.
Then mix together the buttermilk, lightly beat in two eggs, rosewater, food colouring and melted butter and fold through flour and sugar.
Use a mortar and pestle to break up the musk sticks required for the cake batter (approximately 3). Mix them with a little bit of rosewater essence until they become a paste. Transfer the paste into a saucepan over medium heat. They should melt down and become a gooey mixture. At this point, you need to quickly tip this into the cupcake batter and stir through.
Now with the remaining musk sticks, cut them into small pieces and stir through the batter.
Put the batter into the muffin tin and pop them in the oven for about 20 minutes or until a skewer comes out clean when inserted into the centre of the cake. Let them cool on a wire rack.
Icing
Beat the butter until it is light and creamy. Add food colouring and rosewater and continue to beat.
Add the sifted icing sugar in two parts and combine.
Grate about 8 musk sticks using the fine side of a cheese grater and then add to the icing and mix through well.
Decorate each cake with the icing using a piping bag. Then add two musk stick quarters for added decoration.
Ad. Article continues below.
Feature image: Monnybonnycupcakes
Tell us, will you try this lolly recipe? Were musk sticks one of your favourite treats as a kid?