Pineapple upside down bundt cake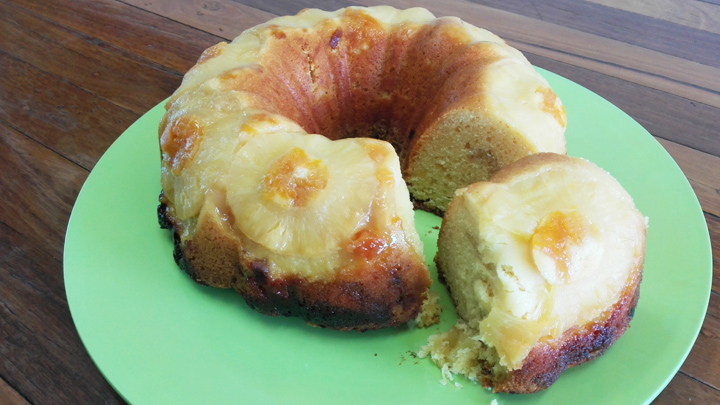 We had this in the Starts at 60 office and it was gone within minutes!
Ad. Article continues below.
It's great for when you want something not too sweet, but with just the right amount of tang.
Ingredients
2 cups self raising flour
1/2 tsp salt
1 and 3/4 cup sugar
3 eggs
1/2 cup unsalted butter, melted
1/3 cup pineapple juice
1/2 cup buttermilk
2/3 cup sour cream
1 tsp vanilla extract
2 ripe mashed bananas
3 tbsp melted butter
1/4 cup brown sugar
6-7 pineapple rings, any remaining rings chop up into small pieces
6-12 maraschino cherries (optional)
Method
Preheat oven to 180 degrees and grease your Bundt tin.
Sift flour, salt and sugar into a small bowl to remove any lumps and set aside.
In a large bowl, combine eggs, butter, pineapple juice, bananas, milk, sour cream and vanilla extract until smooth.
Add flour mixture and stir well.
Gently fold in the chopped pineapple pieces
In another small bowl mix the 3 tbsp melted butter with brown sugar and stir until smooth.
Spread your brown sugar mixture into the bottom of your Bundt pan.
Place pineapple rings over the brown sugar mixture and arrange them to be as flat as possible in the pan.
Place a cherry in the centre of each pineapple ring (optional)
If you want extra you can place extra cherries on the outside of the rings.
Pour cake batter over pineapple rings and spread out evenly.
Bake for 40-50 minutes or until an inserted comes out clean, then let cool.
Place a serving platter bigger than your Bundt pan on top of the pan and grasping both the platter and the pan, flip over in one motion.
Slowly remove the pan from the cake.
Cut when cooled.