Pineapple chicken tenders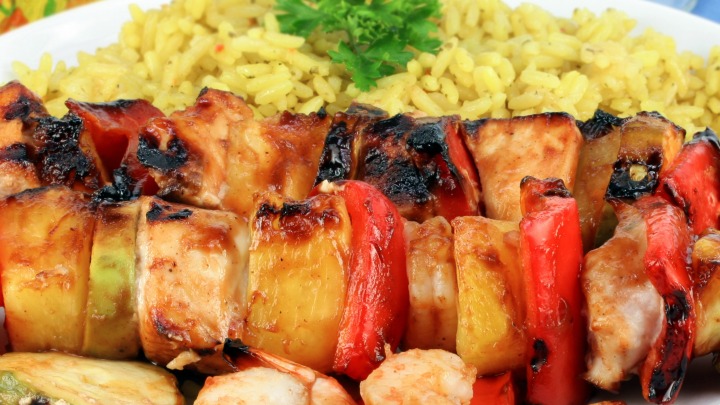 The pineapple and chicken combination was such a classic in the 70s, but seems to have fallen out of fashion over the years. Now though, everything that's old is new again and this delicious recipe is making a comeback! The chicken is soaked in the gorgeous marinade so it can absorb all those lovely flavours before it's threaded onto the skewers wiht the pineapple. You can add any other veggies you like to the skewers to create a colourful and tasty meal. Serve with rice and salad.
Ingredients
1 cup pineapple juice
1/2 cup packed brown sugar
1/3 cup light soy sauce
1 cup red or green capsicum, chopped into 2cm pieces
1kgs chicken breast tenderloins or strips
skewers, soaked in warm water for 20 minutes (stops burning and splintering)
Method
1. In a small saucepan over medium heat, mix pineapple juice, brown sugar, and soy sauce. Remove from heat just before the mixture comes to a boil.
Ad. Article continues below.
2. Place chicken tenders in a medium bowl. Cover with the pineapple marinade, and refrigerate for at least 30 minutes.
3. Preheat grill for medium heat. Thread chicken and capsicum lengthwise onto wooden skewers, alternating between each.
4. Lightly oil the grill grate. Grill chicken tenders 5 minutes per side, or until juices run clear. They cook quickly, so watch them closely.
—————————————————–
If you'd like to see more recipes from Starts at 60, click here. And if you have a recipe you'd like to share with the Starts at 60 community – we'd love to share it! Submit them to us by completing the form below.
Submit your article here