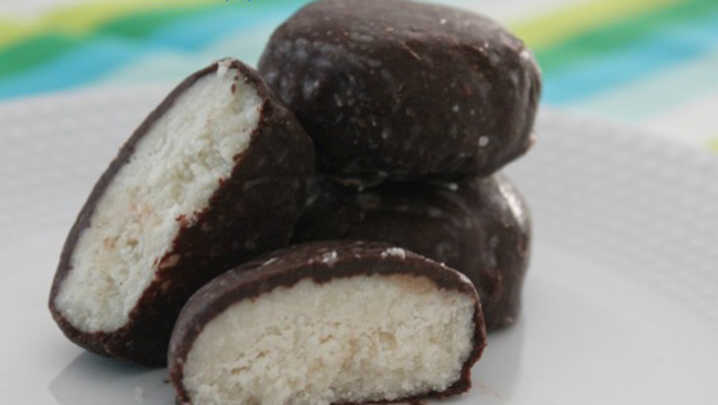 Peppermint patties are a yummy and easy treat to make. With just a few ingredients, you can make a smooth and creamy snack that everyone will enjoy. They can be a bit of a mess to make but definitely worth it!
Ingredients
Inside
2 cups desiccated coconut (190g)
¼ cup maple syrup (75g)
¼ cup coconut oil (75g) (solid)
10-20 drops peppermint essence
Ad. Article continues below.
Chocolate
½ cup coconut oil (solid)
¼ cup cacao powder
4 tablespoons maple syrup
2-4 tablespoons milk of choice (optional)
Method
Inside
Ad. Article continues below.
Line a large baking tray with non stick paper.
In a large food processor place all 'inside' ingredients in and mix on medium speed until thoroughly combined and sticky enough to make balls out of the mixture. You might need to scrape down the sides a few times during this process. Taste the mixture because you might need to add more peppermint depending on how strong the brand is that you purchased.
Make teaspoon sizes balls with this mixture then flatten slightly to make 'pattie' shapes and place onto the prepared tray; refrigerate.
Chocolate
Place the coconut oil, cacao and maple syrup into a medium sized bowl and mix using a spoon until thoroughly combined. If the mixture looks thick, add 2 tablespoons of milk and mix well again.
Work with one peppermint pattie a time and roll in chocolate until coated well and then place back onto the tray. You can use forks to help with this so you don't get chocolate everywhere. If your chocolate is too runny, add more cacao but if it is too thick, add more more milk or maple.
Once all patties are covered in chocolate, refrigerate again until the chocolate is firm (approx. 1 hour). Store in the fridge in an airtight container.
Original recipe can be found at Cutoutthecrap.com.au.
Will you try making these peppermint patties? What is your favourite dessert recipe? Share with us below!