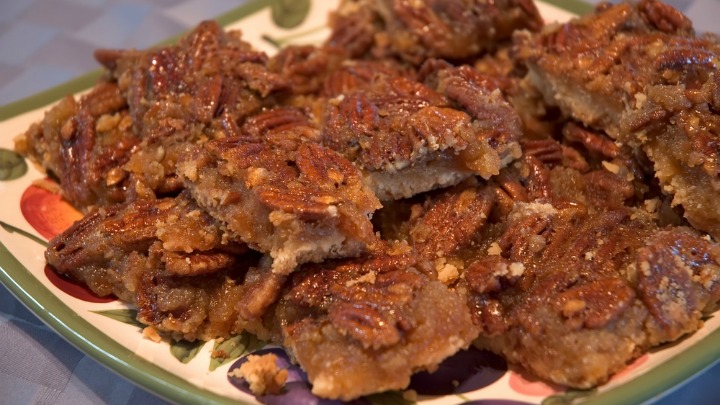 Pecan pie is one of the classics, but this recipe takes the concept of the pie and turns it into the most delicious nutty and sticky slice. Similar to the pie, it has a soft biscuit type base, followed by a gorgeous caramel and then the lovely crunchy pecans on top. Cut it into squares and serve with a nice cuppa and plenty of room for more – you'll need it!
Method
3 cups plain flour
1/2 cup caster sugar
1/2 teaspoon salt
1 cup margarine
4 eggs
1 1/2 cups light corn syrup
1 1/2 cups caster sugar
3 tablespoons margarine, melted
1 1/2 teaspoons vanilla extract
2 1/2 cups chopped pecans
Ingredients
1. Preheat oven to 180C. Lightly grease a 10×15 inch square pan. In a large bowl, stir together the flour, 1/2 cup sugar, and salt. Cut in 1 cup of margarine until mixture resembles coarse crumbs. Sprinkle the mixture evenly over the prepared pan, and press in firmly.
Ad. Article continues below.
2. Bake for 20 minutes in the preheated oven. While the crust is baking, prepare the filling. In a large bowl mix together the eggs, corn syrup, 1 1/2 cups sugar, 3 tablespoons margarine, and vanilla until smooth. Stir in the chopped pecans. Spread the filling evenly over the crust as soon as it comes out of the oven.
3. Bake for 25 minutes in the preheated oven, or until set. Allow to cool completely on a wire rack before slicing into bars.
—————————————————–
If you'd like to see more recipes from Starts at 60, click here. And if you have a recipe you'd like to share with the Starts at 60 community – we'd love to share it! Submit them to us by completing the form below.
Submit your article here