Passionfruit custard slice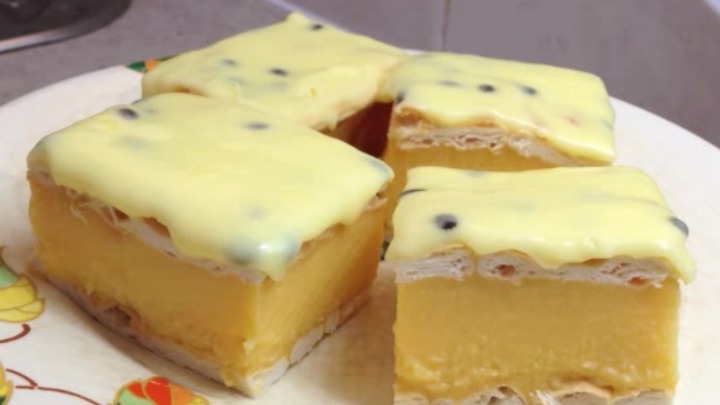 Vanilla slice, custard slice… Whatever you want to call it, it's absolutely delicious when done right and the passionfruit in this version really takes it to the next level! The custard is super smooth with the perfect amount of the all-important wobble. The creamy passionfruit icing is the perfect topping, while the puff pastry holds it all together beautifully. This recipe makes about 16 generous serves so there's plenty to around!
Ingredients
6 passionfruits, halved
2 sheets frozen butter puff pastry
1 cup custard powder
1/2 cup caster sugar
5 cups milk
100g butter, melted
2 egg yolks
3/4 cup passionfruit pulp
1 cup icing sugar, sifted
Ingredients 
1. Preheat oven to 220C. Line 2 baking trays and a 22cm square tin with baking paper. Using a spoon, scoop pulp from passionfruit into a jug and reserve.
Ad. Article continues below.
2. Lay a sheet of pastry onto each tray and prick all over using a fork. Bake for 15 minutes until golden and, while still hot, flatten using a clean tea towel.
3. Meanwhile, combine custard powder and sugar in a medium saucepan. Stir in enough of the milk until a smooth paste forms, then gradually whisk in remaining milk.
Whisk over medium heat until custard thickens. Remove from heat. Add half of the butter, egg yolks and 1/2 cup of the passionfruit pulp.
4. Place 1 square of pastry into the tin. Pour over custard and smooth top. Place remaining pastry square onto custard and press down gently. Refrigerate until set.
5. Place icing sugar into a small bowl. Add remaining butter and passionfruit pulp and stir until smooth. Remove slice from tin and spread over icing. Cut into squares to serve.
Ad. Article continues below.
—————————————————–
If you'd like to see more recipes from Starts at 60, click here. And if you have a recipe you'd like to share with the Starts at 60 community – we'd love to share it! Submit them to us by completing the form below.
Submit your article here