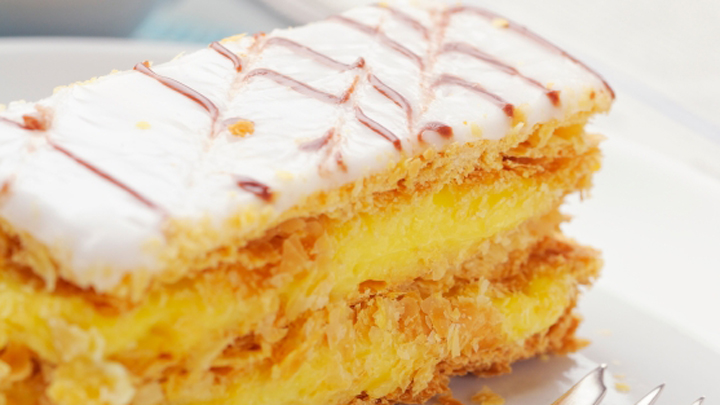 We are so excited to share the best napoleon (or some of you might know it as a Mille-feuille) recipe with you. Don't worry, it can be made with store bought puff pastry dough. The napoleon will come out soft, moist and delicious. The passionfruit flavour is truly delightful!
Let the baking begin!
Ingredients
3-4 sheets puff pastry
2 cups icing sugar
2 tbsp butter, softened
Boiling water
1 tbsp passion fruit pulp
Lemon curd
300ml cream, whipped
Ad. Article continues below.
Method
Preheat oven to 200C and grease baking tray.
Cut pastry into 36 rectangles (larger than desired size because they shrink during cooking) – 6cm x 10cm is ideal! Place on baking tray and bake for 10 minutes. Set aside to cool.
Sift icing sugar into a bowl and add butter. Cream mixture. Slowly add bowling water until it reaches a spreadable consistency. Then stir in fruit pulp.
Spread half of the pastry rectangles with lemon curd. Whip cream to make the bottoms of the Napoleons then spread the other half with the passion fruit icing to make the tops.
Sandwich together tops and bottoms – enjoy!
Tell us, have you ever made napoleons before? Will you try making this recipe?